Get the inside scoop on
the experts favorites.
Ask the Experts: Vanessa Eckels of Hourglass Cosmetics
What are Vanessa's favorite must-have products for women over 40
This post contains links to product that may provide commission if purchased at no additional cost to you
I first met Vanessa on a Zoom lesson back in May. To say I was having a bad day is an understatement. It was one of those days during the height of COVID lockdown that I just couldn't seem to get myself together.  Bad day at work, lots of tears out of the blue and couldn't manage to shower or do anything with my hair even.  I was miserable.  But, I wasn't about to reschedule my Zoom call with Vanessa. It was exactly what I needed, especially that day!   
Vanessa was amazing!  She was kind and patient with me and even through the computer could suggest and recommend colors for me and they were perfectly on.  I couldn't have been happier with the time she spent with me and I was excited to get the pieces I had decided to order once our call was done.  
Since that day I've learned that Vanessa is the Global Artistry Trainer for Hourglass Cosmetics.  She has created beautiful looks like this one shown above for their new Unlocked Instant Extensions mascara campaign, along with many other looks in their advertising. If you aren't familiar with Hourglass Cosmetics, you should familiarize yourself. Not only are most of their products vegan, they are working to make the line 100% vegan. They are a cruelty free company and their products don't contain many of the ingredients that are toxic. They also give to the NonHuman Rights Project.  In addition to all these wonderful things, I've been using a lot of products for several years and for a big reason – they are fantastic products! Here, Vanessa is sharing with us her favorite Hourglass Cosmetics products for women over 40.
Click Here
EQUILIBRIUM DAY FLUID SPF 30 –  
I'd always recommend a good skiing care with SPF. I love the Hourglass Equilibrium Day Fluid with SPF 30 it's your serum, moisturizer and sun protection all in one and great for all skin types…especially dry! 
ILLUSION HYALURONIC SKIN TINT–
I love the Illusion Hyaluronic Skin Tint ..it's a buildable foundation that lifts, plumps and tightens! Who doesn't want that?! 
AMBIENT LIGHTING PALETTE – 
The Ambient Lighting Palette is my absolute favorite product and I never do any makeup without it. It blurs texture and fine lines while filtering out harsh light as well as diffusing, softening and capturing the most flattering light in the skin. The powders can be applied individually or layered to infuse skin with the multi dimensional glow. They are high tech soft focus finishing powders that re-create the most beautiful, flattering light source onto the skin with photo luminescent technology, which filters out harsh light and refines the appearance of the complexion. 
CAUTION MASCARA (for volume) –
I love the great volume this mascara gives!  
UNLOCKED INSTANT EXTENSIONS MASCARA (for both volume and length)-
The new Unlocked Lash Extensions Mascara… it's my new favorite and it comes off with just warm water!!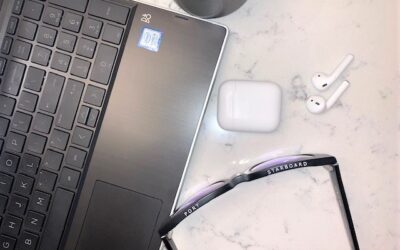 Readers are not only good for seeing, but blue light blockers are even better for you!