A group, a circle of friends, a tribe. Find them. If you don't have them, search for your tribe.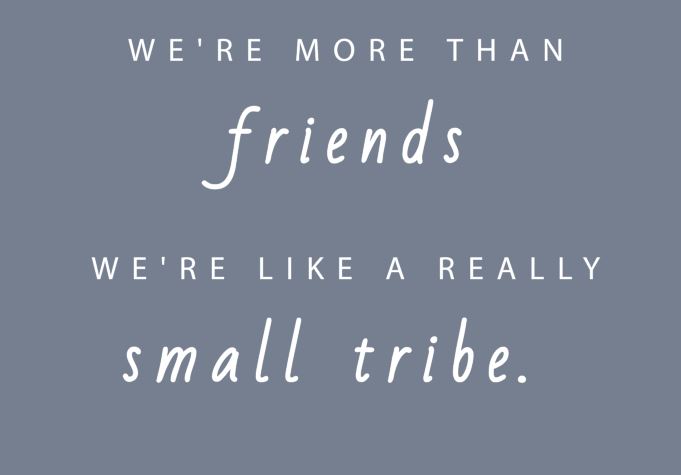 We are in a tribe, 7 girls and 1 guy, We call ourselves the Spades. What goes around, comes around. In Spades. ♠
We were all born and raised in the same little, rural Minnesota town. We've been friends since childhood and some of us since before kindergarten. We may have gone our different ways during the busy times of our lives when raising kids and more, but now we're back together and stronger than ever. Stories of going to kindergarten, the local swimming pool, middle school and high school are still frequent subjects. We loved our little town and the memories are never ending.
But we are so much more.
"We are the Spades and our friendship and love for one another is beyond measure"
We get together several times a year, sometimes in our hometown and other times at a cabin up north. No spouses are EVER included, we're selective that way. Those rules didn't need to be spoken and were set a long time ago.
Our text chains when planning a get together are monumental! As the excitement builds, so do our texts. The questions are fired back and forth, until someone forgets what the subject was to begin with, and a whole new topic is started! Really, the only things that seem to matter are who is bringing all the beer this time and what time are we gonna meet? We bring lots of stupid laughter, play stupid games, and talk about a lot of crazy stuff! Sometimes after having a bit too much to drink, we even think matching tattoos would be an awesome idea! Yep, some of us took that plunge! Some of us were just too chicken. It doesn't mean we don't love each other any less and we all understood.
Most of us keep in touch on a regular basis, but our getaways with all 8 of us are so important to us. We leave our "shit" at home. Bottom line is that when we get together we just act stupid and laugh. We are that simple. We are impromptu and we are tight. We feel loved by each other and sometimes that's all anyone ever needs.
We have been thru thick and thin together. Deaths, divorce, cancer, jobs, marriage, the list is endless. People are sometimes quite surprised that after all these decades that we're still great friends when they see us together or hear some of our stories. We think that well, they're kind of jealous of our love we have for one another. But we wouldn't have it any other way.
As we get older the competition between neighbors, co-workers and even friends becomes less important. We've discovered the importance of who is there for you through thick and thin is what life is really all about.
Find your Tribe. Love them Hard.
Xoxo