How's your WFH going?
Being thrust into working from home is not what many of us had planned for or expected. While some of us have adjusted, I've heard many people say that they are having a difficult time getting into a rhythm.
Here are some tips I put together that have helped me over the years. I've been working from home long before the required lock down, and here are some things that have helped me along the way.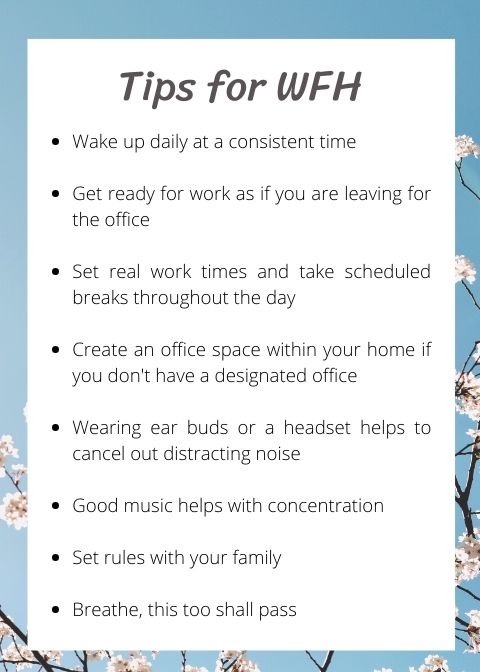 Naturally we think that because we don't have to get in our cars and drive anywhere, why not sleep in late? But keeping a consistent wake up time and routine gives you a sense of "normalcy" during this time.
Sure you want to be comfy when working from home, but getting showered, putting on comfortable pants (a must!) and holding off on wearing that ripped shirt is important. While you're at it put on makeup if you typically do, adding some simple jewelry will boost your morale when you look and feel better about yourself. And in the long run makes you more productive.
Set your work times with scheduled breaks like you would in the office. Were you an 8:00 – 5:00 person? Keep that schedule so family knows you are in work mode. Take breaks throughout the day to see family members and check in, but schedule them at certain times of the day so everyone can look forward to them and you're not interrupted constantly. If you are home alone and not going to see anyone, still take scheduled breaks. Maybe even do a few exercises to recharge.
If you are fortunate to have an office or spare bedroom to use as an office, wonderful! If you've had to carve out a corner of a room or basement to be your new make-shift office, then put up a temporary wall with something as simple as a sheet. When it's down, that's a signal you are not to be interrupted. If it's pulled back you are more available. Even create a sign to put up that says "Do Not Disturb" when you need to concentrate
Wear earbuds or a headset to help cancel out distracting noise. Even playing some calm music helps with concentration. It's also a signal to others you are unavailable.
Many of us have been conducting business with Zoom meetings. This is when tips #1 and #2 come in especially handy if you get notification of a meeting in 15 minutes! Don't want others to think you are sitting in your basement working? Zoom does have some background images you can use, but West Elm has some great backgrounds. Everyone will think you're the cool woman in the company with one of these backgrounds rather than think you are locked in a jail cell.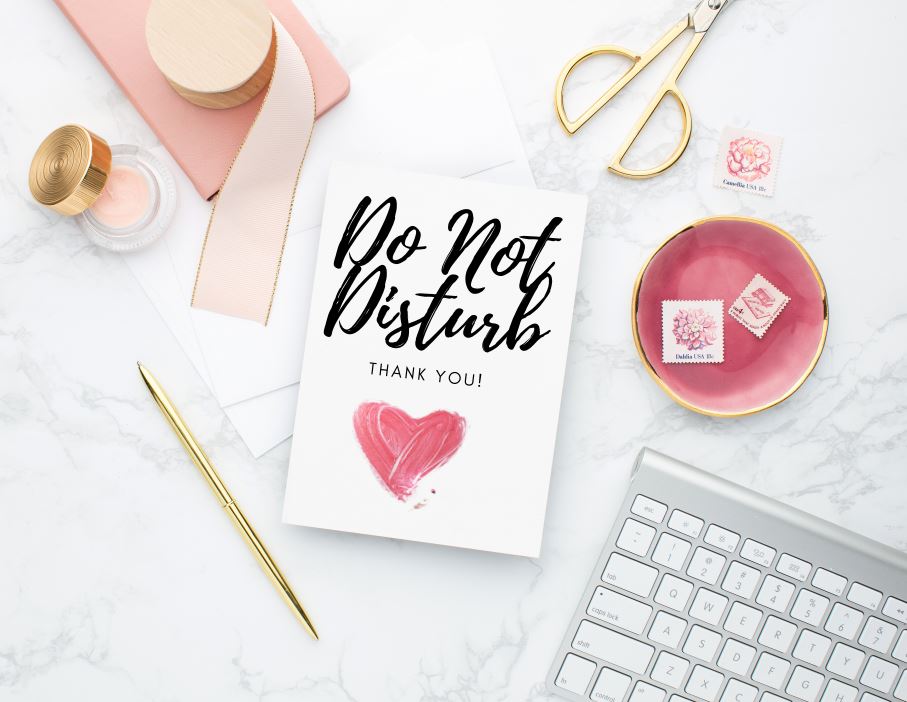 Just breathe. This too shall pass.