This post may contain links that if product is purchased, commission is paid at no extra cost to you
Have you found anything you can't live without during the Nordstrom Anniversary Sale? Today I'm sharing my favorite hair products, beauty tools and fragrances. Previously I shared my favorite skincare and beauty products.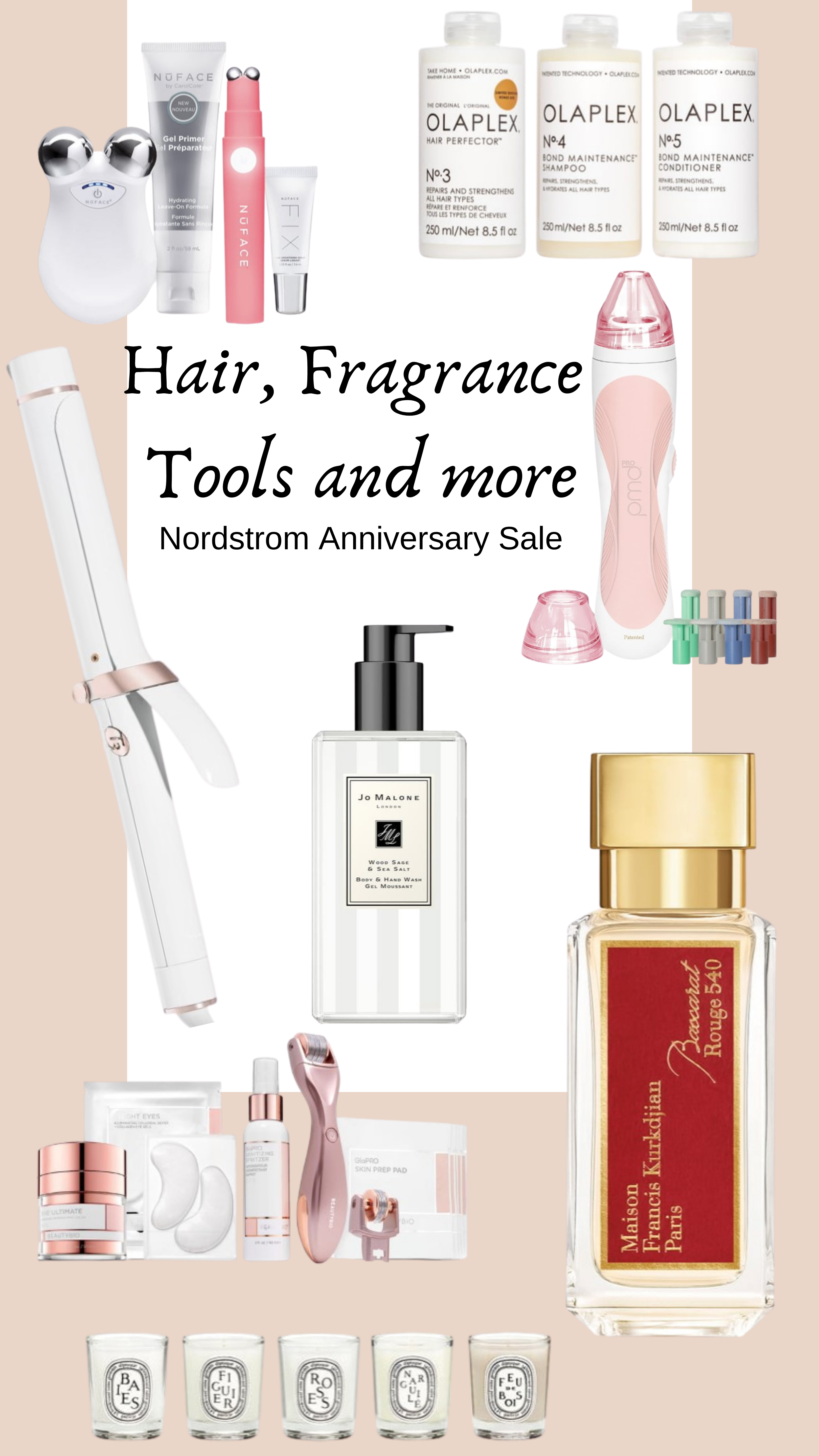 The NuFace tools get rave reviews from users and I also own the full size facial toner. This set includes the mini toner – which I hear is just as good and full size not necessary, the FIX tool and primer and serum. $233.16 regularly $348.00
Olaplex set of No 3, No 4 and No 5. I switched to this line about a year ago and have never looked back. I love how these products work on my hair and make it feel. Total game changer! You get a jumbo size of the No. 3 treatment and full size shampoo and conditioner. $126.00 valued at $171.00
Another hair game changer is the T3 Single Pass curling iron. In June when I got my hair cut my stylist used this on my hair (1.25″) and for the first time in my life, my curls stayed all day. I bought one the very next day and have never looked back. $107.00 valued at $160.00
The PMD Personal Microderm Device I've owned for years and recommend you do too! You think you have a clean face till you try this. It sucks gunk out that you swore was never on your face! $133 valued at $199.00
Jo Malone – well that says it right there. Jo Malone anything. I am dying to try the Wood Sage and Sea Salt body and hand wash. It's one of the scents I haven't tried yet, but seems divine to me! Jumbo 16.9 oz size for $70.00 valued at $116.
BeautyBio GloPro Microneedling facial set is another skin game changer. I got a similar set at last years' sale and use it at least 3 times a week. So easy to use and results are incredible. This set includes the tool with face and eye tips, full size moisturizer, eye gel pads, skin prep pads and sanitizer spritzer bottle. $179 valued at $334
I have only a tiny sample of the fragrance Maison Francis Kurkdjian Paris Baccarat Rouge 540. I'm not gonna lie, it's expensive and the reason I only have a little sample. But something about this makes me want to make this my signature scent. I love it! Not sweet, not too masculine, but a good mix. This special size of 1.1 oz is $180
Last but not least, Diptyque travel size candles is a perfect way to have a different scent in every room! It includes 5 scents so you get to test them all! $55 at a $75 value