The Nordstrom Anniversary Sale is now on. Well, for some of us that is. Starting Aug. 4th they have different start dates for the different levels of status with Nordstrom. Beginning Aug. 19 and running thru the 30th, they are open to everyone for the sale. And remember for online purchases, shipping is always free! I've gone thru and picked out my beauty favorites of the exclusives. Today it's all about the beauty, tomorrow skincare.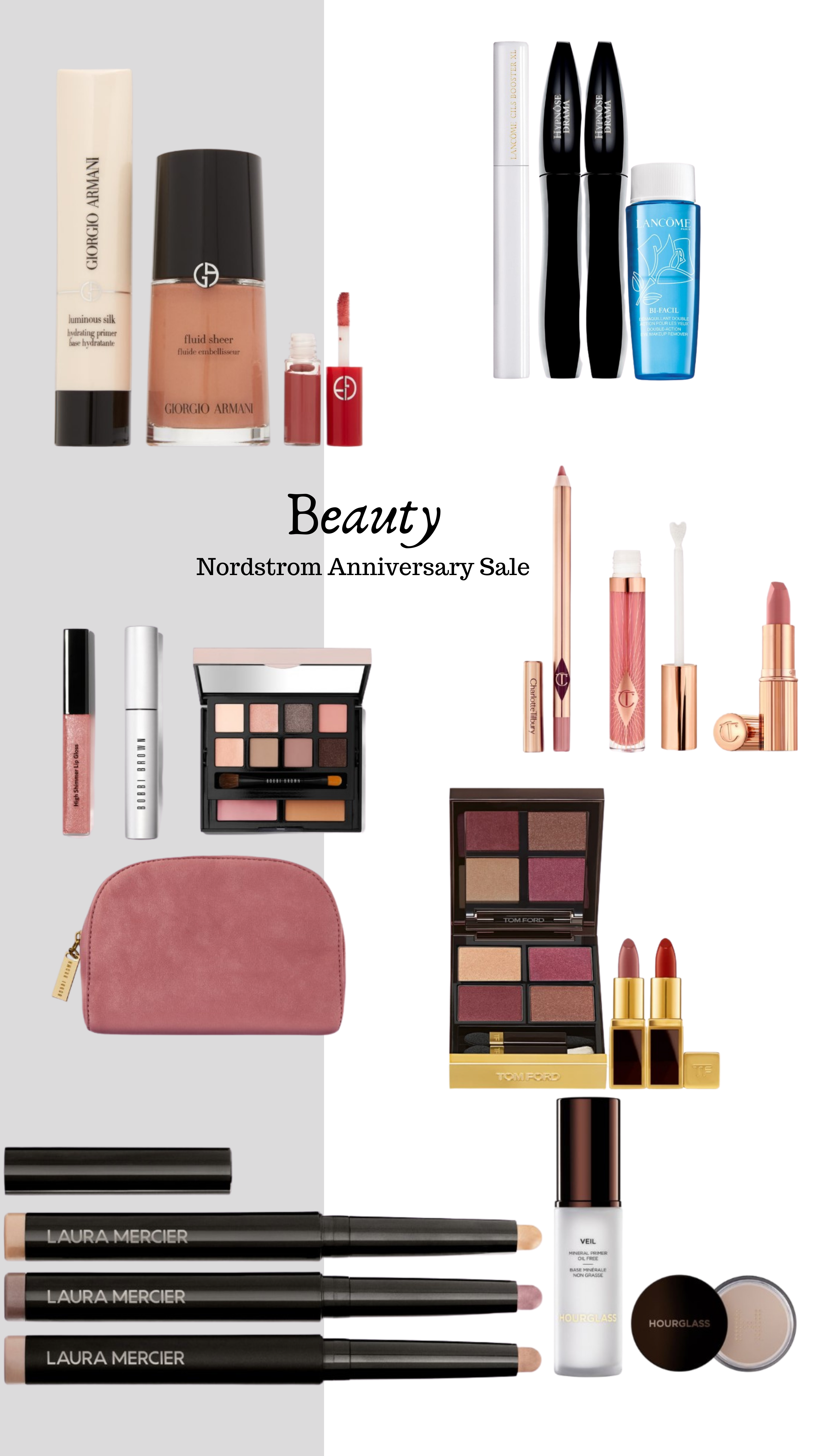 Here are some of the my beauty favorites exclusive deals that I've selected that are tried and true and a great value!
The Giorgio Armani trio which includes a full size Primer, full size Fluid Sheer in #2 and mini lip color in #501 for $75. A $112 value
Lancome has a full size lash primer, 2 Hypnose Drama full size mascaras and a mini Bi-Facil for $59.50, valued at $96.50
This is one of my very favorites of the exclusives – the Bobbi Brown Easy Essential Eyes, Cheek and Lip set for $79.00 valued at $250! you get the palette with 8 shadows, 2 blush/bronzer, dual ended brush, a full size mascara, full size lip gloss and the rose colored sueded pouch.
Charlotte Tillbury's Pillow Talk has been the talk of the beauty world for some time now. This trio of lip products includes a lip liner, lipstick and lip gloss for $68, valued at $91.
Who doesn't love some Tom Ford Beauty! This full size palette in Burnished Amber is such beautiful colors for fall and 2 mini lipsticks are included. $88.00
I use these Laura Mercier Caviar Stick Eye Colors all the time. So easy to use and they look great and stay put! This includes 3 full size sticks in shades Amethyst, Rose Gold and Au Naturel for $58, an $87 value
Another of my absolute favorites is Hourglass. They have this combo of a full-size Veil Mineral Primer and a travel size of the Veil powder. $59 valued at $74
I'll also be bringing you daily beauty specials that are available only on specific days and when they're gone, they're gone. The deals are very nice and worth keeping a watch out for! These extra specials will be on August 19 – 30th. I'd love to hear what you're planning on buying!