Years ago when Fab Over Forty started, there were so few skincare lines that were natural or organic that they were practically unheard of. Oh, you might have found a line that had 1 or 2 natural ingredients in them, but rarely one with all natural ingredients. And those could even be questionable on performance and packaging.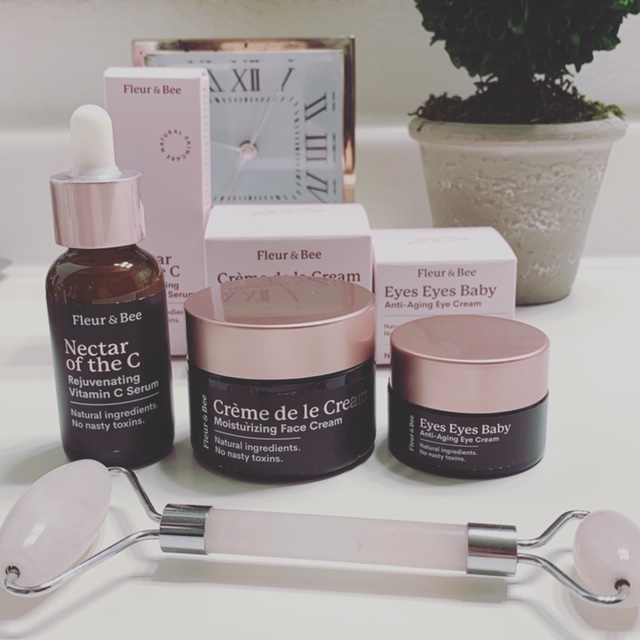 Fast forward all these years and now there are countless companies that are popping up and offering many choices. And that's a good thing! But one that I've recently have been testing are products from the brand new company Fleur & Bee. Not only are their products made from natural ingredients, they're good for you, and they actually work! And the bonus to it all? They're very reasonably priced as everything is under $35!
Let's face it (OK, pun intended) I also want packaging that looks good on my bathroom counter. Honestly, pretty packaging encourages me to use it. How about you?
I've been testing the Nectar of the C Rejuvenating Vitamin C Serum, the Eyes Eyes Baby anti-aging eye cream and the Creme de le Cream Moisturizing Face Cream and I absolutely love these products!
I have been telling myself that I need to use more natural products since I have several autoimmune diseases. Lately I've had flareups, irritations and more and it shows on my skin. Our skin is our #1 largest organ and mother of all protectors of our bodies, so we need to be taking good care of it. What goes on it, goes in it.
I've immediately noticed changes in my skin. Not only with less redness, but with my wrinkles becoming less and less noticeable. Ones that were clearly very visible are softer and more tolerable. Everyone should be using a Vitamin C serum daily and I really, really like this one. It doesn't irritate and is a great serum that works in conjunction with the moisturizer. Both the face and eye creams have a beautiful consistency – creamy, not greasy, moisturizing, not heavy. They really feel lovely. I truly can't give these products a high enough praise, they are that good. And, they look pretty on my bathroom counter, too.