It's a question about skincare that is not asked often enough and leaves us wondering – how much skincare product is enough? Since most jars of skincare just say "apply after…" it leaves us often assuming that more is better. Not so when it comes to skincare.
Here are a few typical skincare products used and the amount that should be used for each.
 Vitamin C Serum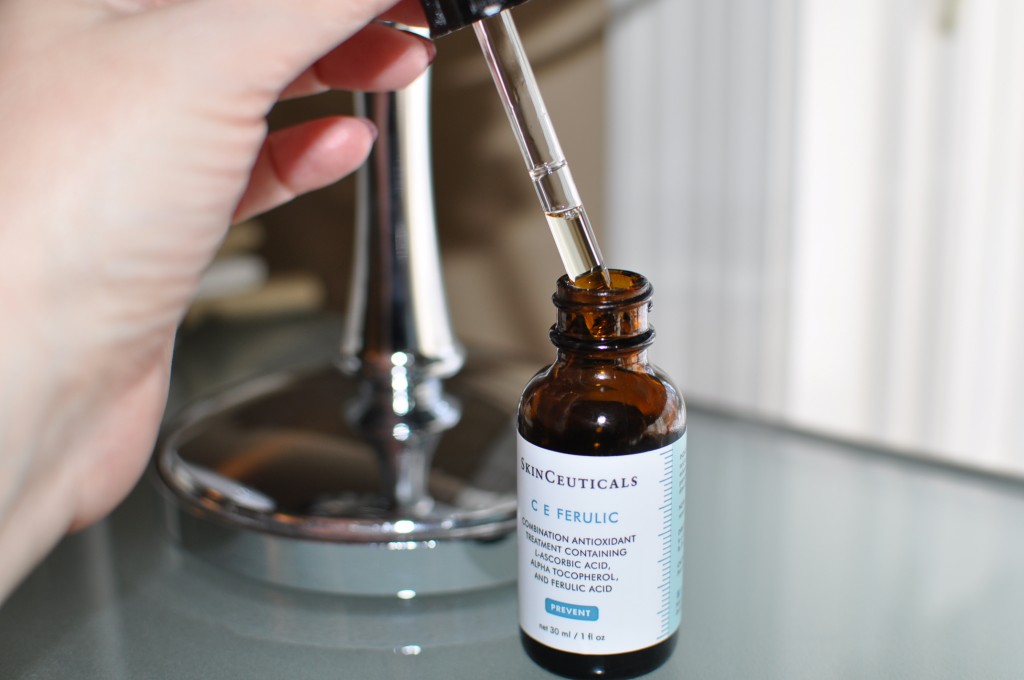 Vitamin C Serum is an anti-oxidant used in the morning after cleansing the face. It has numerous benefits – both protective and preventative. A good Vitamin C is packaged in a dark jar to maintain its effectiveness.
Apply to a dry face and neck and only 4-5 drops are needed for complete coverage, NOT 4-5 droppers full. It's liquid with a water-like texture so a little goes a long way. Because of the watery texture, apply it to the palms of the hands otherwise it will seep through the fingertips.  To make this most effective on the skin, leave it soak into the skin for about 2 minutes before continuing on with remaining skin care.
Face Serum
Face serums are concentrated ingredients used for a variety of reasons – protection, prevention, repair etc. They are oftentimes used morning and night after cleansing  the face and before moisturizing. Some are lightweight in texture, others gel-like. This one is a lightweight, almost lotion-like texture.  Because serums are typically "thin" a little goes a long way, and because most pumps are pre-measured (not all) 1-2 pumps are adequate for a full face and neck. If you are applying to decollete as well, 2 full pumps are needed. Shown above will cover face and neck.
Daytime lightweight moisturizer
During the day I like to use a lightweight moisturizer that is more of a lotion or many times sold as an emulsion.  Again because of the thin texture a little goes a long way. Shown above is 2 pumps to cover face, neck and decollete.  If you find this isn't enough moisture for your skin, switch to a cream instead of lotion as they are more moisturizing.
Eye Serum
Like a face serum, an eye serum is a concentration of ingredients meant for various skin issues you would like help with. And like a face serum, an eye serum is typically thinner in texture than an eye cream. Since most eye serums are in a pump 1 pump will adequately cover both eye areas.  Rub both your ring fingers together to distribute the product evenly and tap under the eye and to the outer corners and even under the brow area (not on the lid). Once you've tapped the product around, let it absorb in before applying eye cream on top.
Eye Cream
An eye cream will come either in a jar (like above ) or in a pump version. If using a pump version see rules for eye serum. 1 pump is all that is needed for both eyes. This eye cream is a lightweight cream and shown above is a very generous amount to use for both eyes.  Again, rub ring fingers together to evenly distribute the product and tap it into skin under the eye to the outer corner and under brow bone (not on lid). Many times after the cream has been tapped into place I will gently run my fingers along the orbital bones to soothe it into the skin.
Retin A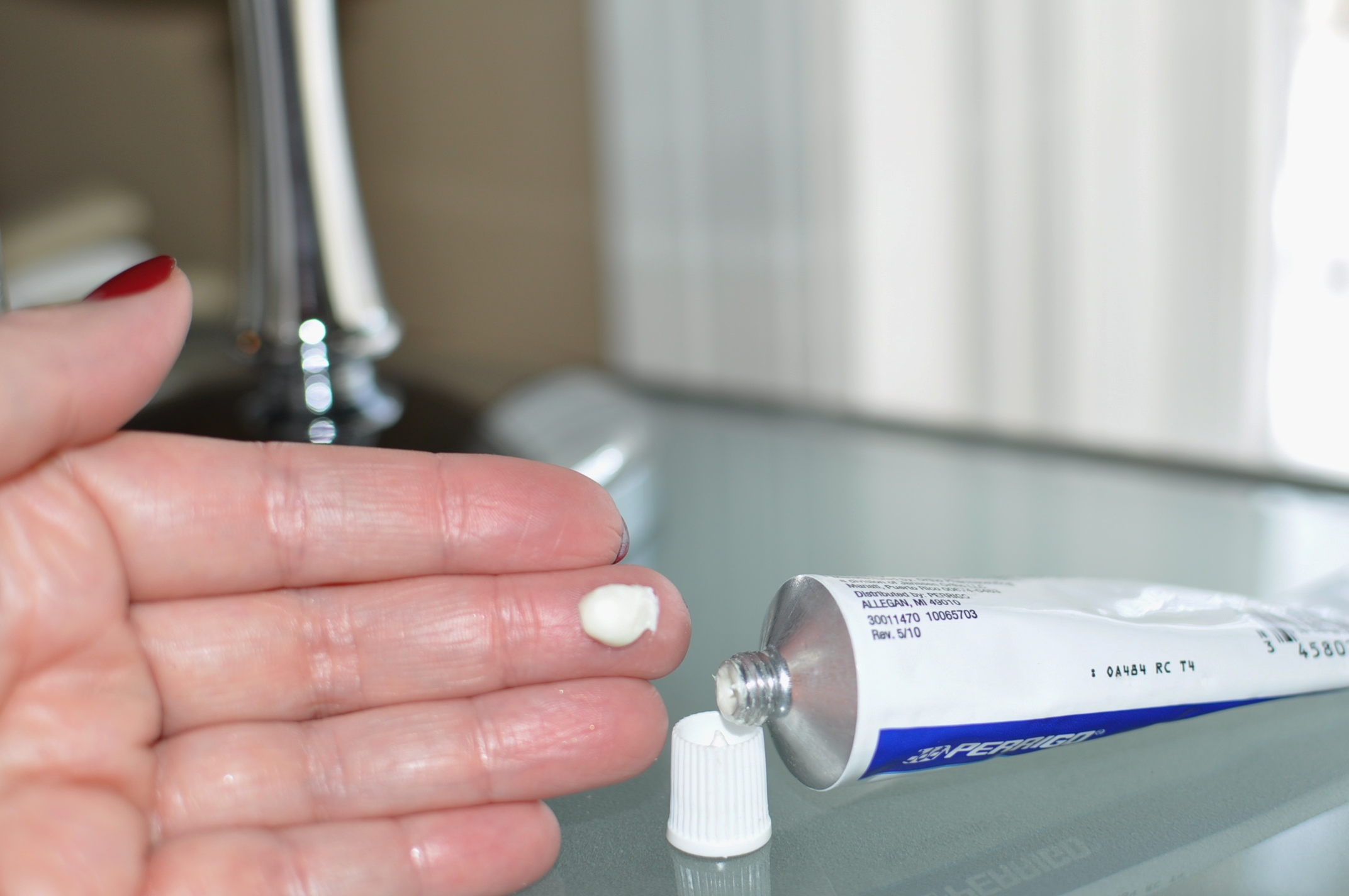 Retin A is to be used at night time after cleansing. Because it is so concentrated a pea sized amount will do for the whole face and neck. Anything more may be irritating to the skin and using a Retin A can take some training for the skin to get used to it. You may want to begin using it every other day to let your skin adjust to its intensity. If after 2 weeks you are still having any irritation or flaking, your dosage may be too strong and you need to talk with your dermatologist for a different formula or try an over the counter version, which isn't as strong.  To use, rub the pea sized amount  with your finger tips to warm it up and make it more pliable, then press into the skin.  If you feel you need a moisturizer after that, add one, but many people finish their nightly routine after applying Retin A. I however, do add a night cream.

Night creams are typically more thick and rich in texture than a day cream. They also typically will have stronger ingredients in them than a day cream because our skin does most of its work on repairing while we sleep. But, that does not mean the more cream the better it will work and the faster it will work. Instead, cream that is applied too heavily can oftentimes lead to irritation because you are using too much or it can even clog the pores and cause breakouts – as with any skin care. Above is a generous amount of night cream that is used on the face, neck and decollete. Yes, that amount will cover all those areas! Again, warm it up by rubbing  the product with the fingertips and press into the skin and then lightly rub throughout the area. If you don't feel you are getting enough moisture in your skin using this amount, then consider switching to a different night cream, as possibly the one you are using is not enough for your skin and just using more and more of it isn't going to help.
If you have excess product on your fingers, apply it to the back of your hands – they too need all the help they can get!
I hope these tips on quantities of product to use are helpful and that your product will now last the recommended time of 4+ months per container.
Top image: Bigstock, other images Fab Over 40