I thought I'd share a few of my favorite go-to beauty products today. Some of these are pieces I've used for ages and others are new but have quickly become products that make me wonder how I've ever gone without them before!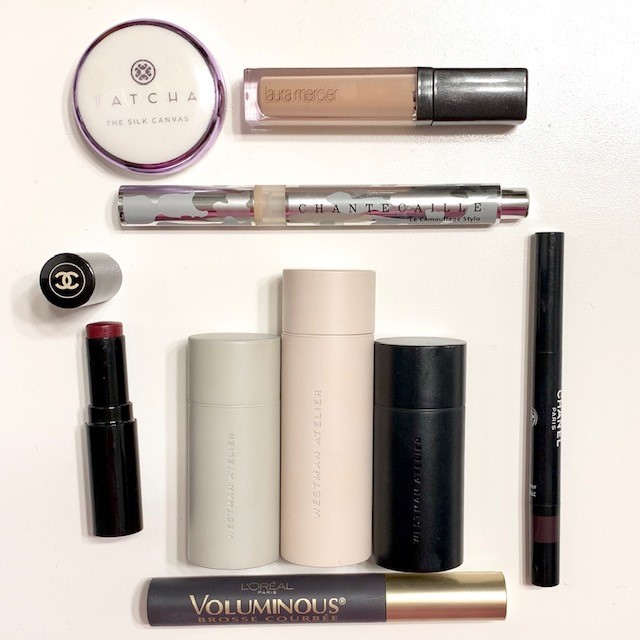 The Tatcha primer, The Silk Canvas, (this is travel size) is the first primer that I can use with confidence knowing I won't break out. It's like velvet in a creamy powder form. Difficult to explain the texture till you feel it. It makes pores vanish and fills in those nasty fine lines.
Laura Mercier Eye Basics in Wheat. It's been a go-to for so many years I can't count! I prime my eyelids with this every single day and it prevents creasing and fading of eye shadows like no other primer.
For light concealer days the Chantecaille Le Camouflage Stylo Anti-Fatigue pen is fantastic. It's creamy, lightweight and brightens up the under eye without creasing and it stays put.
Celebrity Makeup Artist, Gucci Westman, came out with her makeup line in 2018 called Westman Atelier. When I went to Chicago in December I had to go to Barneys to try it out. For sure they instantly became those products you wonder how you ever lived without. I'll be giving a review soon! The foundation stick is the best I've used, and I've used many! Personally shade 3 works for me. The blush in Petal is so easy to use and keeps the skin fresh looking. Lit Up Highlight Stick was one product I was on the fence about going with, but now I'm all in!
One of the best versatile products I use is the Chanel Stylo Ombre Et Contour pen. I own four of the colors and use them constantly. This color is in Rouge Noir, a deep plum shade. I use them alone as liners or as a liner and eyeshadow. Love!
Also, for the eyes good old L'Oréal Voluminous mascara. Personally, I like the curved brush because it gives my lashes a bit of lift while making them look full and long.
And last, but not least, the Chanel Lip Beiges in Deep. It's a balm and might look really dark in the tube, but not when it goes on. It gives a perfect (darker than nude) flush to the lips. I have a feeling it's being discontinued as it comes in only 3 shades and it's difficult to find the deep. I will definitely need to find a substitute when this one is gone.
What are some of your favorite go-to products? We'd love to hear!