A little over a week ago I was in Chicago with girlfriends and we of course had a shopping trip planned for downtown Chicago and my main goal was to hit Neiman Marcus and look at the Tom Ford Fall 2014 Collection. They had all of it, no need for pouting or hissy fits like I've heard from others trying to get their hands on it – it was there in all its glory.
Tom Ford Makeup Artist Leo was there to answer any of my questions and apply the collection on my face. He did not disappoint. When I see a makeup artist, for me, it is not just about putting the makeup on and getting an end result but also I'm there to learn. I love learning something new any time I can.
The eye shadow quad Nude Dip from the Fall 2014 Collection is a fabulous palette that is wearable all year round and offers several looks. Using 2, 3 or even all 4 of the shadows it doesn't matter – they all look stunning in whichever fashion you choose. One of the things Leo told me about this is that the shadows can be used either wet or dry. I haven't tried them wet yet, but dry a few times and that is how he also applied them to my eyes. In addition to using 3 of the shades from the palette, he also used the blush shade from the Stroked face palette on my eyes in the outer corner.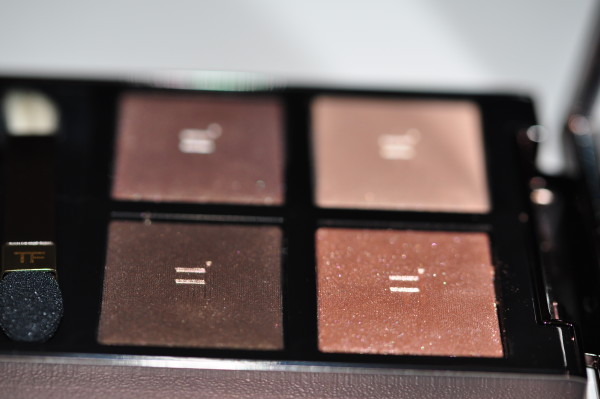 Yes, these shades have shimmer in them but not crazy high shimmer. This is wearable shimmer and if you notice in these photos they are quite dimensional in their color as when you turn the palette the colors appear to change as shown above. The Non Blonde has some quite lovely shade images that I feel show exactly how each shade look.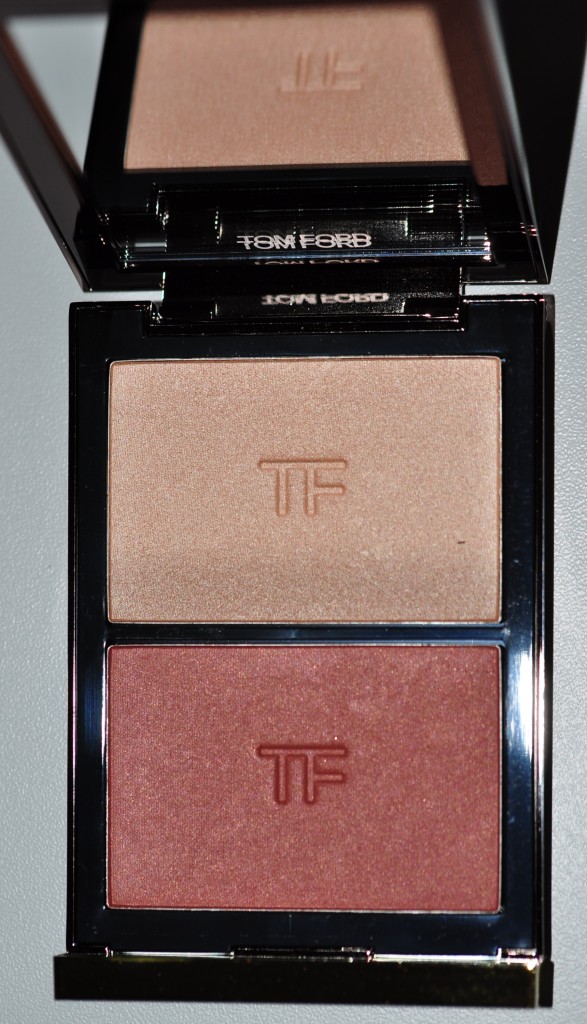 Above is the new Contouring Cheek Color Duo on Stroked. It's the warmer of the two Cheek Color Duos offered. The other is Softcore, a more pink/plummy toned shade. The highlighter is a nice warm tone that works with my skin tone and has a nice amount of shimmer. The color is a warm light terracotta matte shade. I've noticed that it's highly pigmented and difficult to use with the Tom Ford Blush Brush – I need something lighter/fluffier to give a more light, even application. Something like a skunk tipped brush works best for me.
For me there really is nothing comparable in lipsticks to a Tom Ford Lip Color. Not the Lip Color Shine, but the Lip Color – something in the Shine formula does not agree with me and makes my lips peel. They are creamy, pigmented and stay put for hours and hour and are moisturizing. Couldn't really ask for anything more in a lipstick. Yes, they are expensive as all his products are, but well worth every penny to me. Above is from the Fall 2014 Collection called Negligee. As with most names of the Tom Ford line they seem to all have a sexual connotation, because he also wants you to feel sexy when wearing his products. As Leo told me, everything has to be of quality and something that he accepts the quality as wearable, which he has set very high standards.
And for a bit of daring fun, the nail shade in Black Cherry.If you were to rub your dry nail across a piece of paper it truly transfers onto paper in a black cherry shade. This may be one of my fall into winter staples. I have it on my toes and fingers right now.
Leo and I had a great chat about "Mr. Ford" as he has obviously as an employee been required to call him the person, not the line. His history in the fashion business and how he turned Gucci around and YSL Beauty around before embarking on his own clothing, fragrance and eventual beauty line. I reminisced with Leo about the time he created the first Bronze Goddess Collection for Estee Lauder. The packaging was phenomenal and I kept it for years. I think I eventually tossed it in a cleaning rage and regret doing so. Mr. Ford limits where his makeup is sold because he strongly associates fashion with beauty, which is why his whole line is sold at Neiman Marcus, and it's available online at Nordstrom. Personally I love how fashion houses have beauty lines – they seem to really "get it". Take Chanel, Dior, Giorgio Armani as prior examples and of course now Tom Ford.
Expensive yes, but well worth the investment.  Later this week I will share with you some of my other Tom Ford purchases.
Top image Tom Ford, other images are Fab Over Forty.