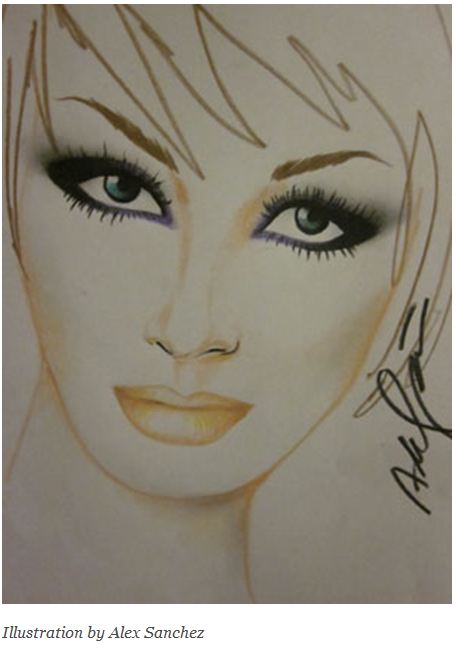 It's been an very busy week in Minneapolis with Glamorama related events going on.   Especially busy for Lancome, as they do all the makeup for Glamorama.   If you aren't familiar with Glamorama, it's a major fashion show event put on by Macy's, which it is also a fundraiser benefiting the Children's Cancer Research Fund, a very wonderful cause.   Alex Sanchez, National Makeup Artist for Lancome creates the look that he and his team of artists do for the show.  
This year, his look was a nude face and lip with very dramatic smoky eyes.  Above is the image Alex drew for the event.   What an amazing look and he's quite the artist, too! 
Alex was in Minneapolis for several days and spent time at the Macy's in Minneapolis doing makeovers and on Wednesday evening he held a class at Macy's, which I attended.   Below I'll get into some new tips I learned from Alex that night, but I wanted to share with you the look that was done on me.   First Shannon, from the team of Lancome artists, did my makeup and she told me Alex would be coming by toward the end and spiff it up a bit.    Shannon did a beautiful smoky eye using the Golden Glitz eye shadow quad and lined my eyes with Kohl Eyeliner in Black Lapis which really made them pop.  For my lips she used Le Rouge Absolu Lipstick in Rose Crystal topped by a matching lip liner and then topped with La Laque Fever Gloss in Plum Savvy.   Gorgeous!   If I would have been thinking, I would have taken a photo then, before Alex took my look to the next level, so you could see how gorgeous my eyes looked.  I will just have to re-create it at home and show you a photo.  
Alex began his work on creating "the model eye" as someone walking by called it.    Literally, there were people walking by and staring or stopping in amazement at how unbelievably smokin' my eyes were.   I told Alex that I was probably the oldest woman around that had such smokin' hot eyes!  Ha!  
Alex added colors right over what was already done to my eyes.   He used shadows from the Color Design Matte Collection, which I believe is exclusive to Macy's and available at Lancome online.   The main color he added for intensity was Successorize.   It may look blue online, but it's a deep blue plum, a beautiful shade.    He intensified the liner using the Artliner in Noir and then I watched as he swiped mascara on the back of his hand in the shade of teal that had sparkle to it (I don't see it online).  I wondered what he was going to do with that!   Well, he tapped it onto my eyelids, is what he did.   It really gave them that magical look!   You can see the finished look on top and above with Alex, who by the way is such a nice gentleman.   I thought I needed to call up friends just to go out afterwards!
Here are some new tips from Alex that I thought would be great to share:
When using BiFacil makeup remover, leave the soaked pad on your eye makeup for a bit to activate it and make removal easier.  Then soak a Q-Tip in BiFacil, place a tissue under your eye and roll the Q-Tip along your lashes.   All the mascara comes off without smudging under your eye as it goes on the tissue and the rolling of the Q-Tip prevents eyelashes from being pulled. 
Lancome's newest sunscreen, Bienfait UV SPF 50+ was tested on the back of everyone's hand.   No white filmy look or feel.  It dries to a soft matte finish and virtually disappears.   It's the most amazing sunscreen I've ever seen – now no one can say they don't use sunscreen because of the heavy, filmy feel.   This is a must have!
Someone in the audience asked, why use a foundation brush when applying foundation.  Alex's answer is because you can strategically place the foundation better (no need to apply foundation all over your face), you can build the application for more coverage and it allows for a flawless finish. 
Alex suggested applying concealer in a vertical application as it prevents less creasing.  When using liquid foundation apply concealer after foundation, if using a powder foundation use concealer first. 
If using the Oscillation Powerfoundation, warm it up in your hand first with the applicator and work from the outside in following the muscle structure in your face. 
When applying blush, use a flat-tipped brush and tap the blush in 3 places along your cheek and then blend.  This of course after tapping out the blush in your hand first. 
Apply mascara BEFORE liner.  I've never tried this one before.   If you apply your mascara first, you need less liner.  And of course no pulling your eye to get a straight line.   Look at a mirror placed below your eye and dab the liner between lashes. 
Think of lipstick as an accessory.   Apply lipstick first (as it stains your lips) then line with a matching pencil from the outside working in.   We tend to lose more pigment in our lips on the outer edges so start from there first.   Press a tissue to your lips and top with gloss.
If Alex is ever in your area, be sure to book an appointment for your special look.   You can check the Lancome website for scheduled appearances.