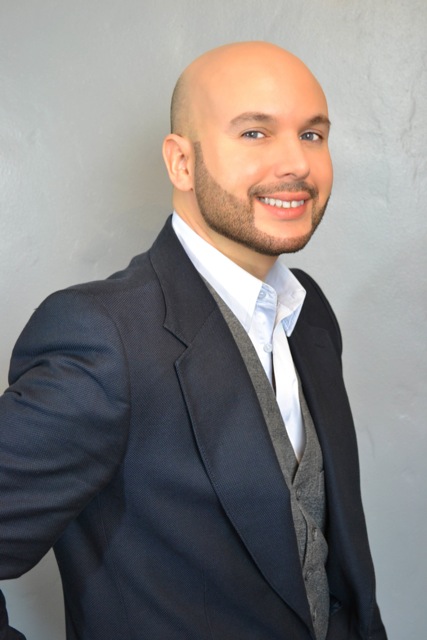 I recently had the opportunity to interview Mikey Castillo, Director of Makeup and Education for Le Metier de Beaute.  With my head spinning about what to discuss – the beautiful LMDB products and the million questions that could arise from that alone, or how to keep your makeup from melting in this scorching heat, I decided that the focus really needed to be on makeup looks and tips for women over 40.   Mikey (over 40 himself) was the perfect person to talk to.
"Luxury speaks to performance – what will it bring to your life?  It gives you the expectation to look beautiful and performance is the key difference"
He comes from a lifetime passion of art, beauty and makeup.   Mikey has been obsessed with art since he was five, a subscriber of Vogue magazine since he was 11 and applying foundation to his face since he was in high school, a professional artist since 1989 and no doubt has perfected the flawless no-look foundation look over the years.  Mikey said that since he's over 40 too, he relates to what women over 40 are looking for – and that mainly is to look pretty.  I must agree with him, I think we all get to a point in our lives where we don't want to have the severe look of an 80's super model, be a walking piece of art or imitate the latest Lady Gaga reincarnation.  We just want a softer, prettier version of ourselves.
For someone hiring Mikey to do their makeup, he considers it his job to make them look 10 years younger.   I think if I'm ever granted 3 wishes one of them may be to have Mikey do my makeup every day of the year! Applying your makeup too harshly can make you look 10 years older and we certainly don't want that!  One of the most important pieces of the makeup wardrobe is to have a great foundation.   Le Metier de Beaute's foundations contain hyaluronic acid – and if you're a regular reader of Fab Over 40 you know that is an ingredient we look for in our skincare and now in makeup.  Hyaluroic acid holds up to 1,000 times its weight in water, meaning it keeps your skin moisturized and plump instead of dehydrated like many oil-free foundations can.
LMDB Classic Flawless-Finish Foundation will give you "the beautiful fantasy of wearing full coverage makeup, but not look like you are wearing makeup" according to Mikey.  This foundation formula was one of my very first LMDB purchases, along with a bonzer, blush and shadows.  It truly does give a flawless fnish when applied with a foundation brush as thinning it out with a brush is key.  Along with hyaluronic acid, it has an ingredient called Nylon 12 – which is an elastic-like molecule that expands and contracts with facial muscles and expressions.  Therefore it never settles into fine lines and wrinkles.  Peau Vierge Anti-Aging Complexe Tinted Treatment can be worn in a few ways according to Mikey.   For a more "casual" makeup look, use it as your foundation – it's easy to apply by using just your fingers to smooth out or use it under one of the other foundations.  Either will give your skin an amazingly flawless look.  Peau Vierge is made with .05% retinol and according to LMDB you can see a change in your skin in as little as 5-7 days with less redness, smoother, plumper skin and it has SPF 20.
In addition to the foundation, here are some more of Mikey's tips to look softer and more feminine.
Remove hard lines on eyes, lips and cheeks
Create intensity without visible liner
Soften the blush – no hard streaks to the ear
Gloss can soften the lips and make them appear more youthful
Here's how he removes the hard lines on the eyes, but creates intensity.   His favorite liner is the Precision Liquid Liner.  (Again I own this too) but instead of drawing a thick line along the top of the lash line – buff it into the lashes.  Don't point the pen, but instead lay it flat and press it into the lashes and it will make your eyes defined and "pop".  It also doesn't transfer to your lower lash line when you blink like regular pencil liners do.  It's not dehydrating so it won't crack off like some lienrs to, as it isn't made with plasic molecules – only water and pigment from clay.   Do not draw beyond the lash line or "wing" it out past the eye.  That just makes people say "Oh, she's wearing an intense eyeliner" instead of "Your eyes look pretty" like we want to hear.  To brighten the eyes you need contrast.  If you have a warm colored eye, use a cool tone to contrast and bring it out.   If you have brown eyes, use a blue shade and blue eyes use a warm bronze.
Don't draw an intense eyebrow, it's too masculine.   Definitely fill in and define, but use a shade that is 1-2 shades lighter. Even if you have really black eyebrows, use a lighter shade than black – no one should be using black.    Softer doesn't mean boring. it means "pretty".
When using blush it looks theatrical if you create that stripe from the cheek to the ear, no one blushes there.   Apply blush to the apples of the cheek, but not right in the center of the apple.  Apply it to the top of the apple just under the eye, it optically raises the face.  Children blush higher on their cheeks than adults do, so try to imitate where children blush.  And as for color – right now coral shades are "hot"!  Even if you typically wear a pink blush, try and find a shade of coral – it warms the face up more than blue-based pinks.
For women over 40 red matte lipstick is too harsh and aging.  Instead try wearing a gloss, it's more modern and gives you shiny, full and youthful lips.   There's no need to wear a liner with a gloss unless you want to elongate the life of the gloss.   Gloss is a great way to play up the eyes and to look sexy.
I was so thrilled to speak with Mikey and get these wonderful tips and I wanted to speak to him for hours!  I couldn't wait to try them out right away!   The next day at work I had used my eyeliner in the manner in which he spoke and right away someone commented that they liked what I had done to my eyes.   They asked me what I had done differently and I explained the technique that Mikey uses and they agreed it does make the eyes look softer.
Around three years ago I met Dustin at the Le Metier de Beaute counter at Bergdorf Goodman on one of my many NY trips I used to make. From that first time I have been a die-hard LMDB fan and have never, ever been disappointed in their products.  From my original purchase to my latest with some brushes they are quality all around.   Surprisingly though, I had never used any of their lipsticks and only recently purchased a lip gloss, which confuses even me, the die-hard lip person to this day.  The company was very generous and sent me some of their lipsticks, glosses and pencils and I will be sharing those with you in the near future.  But in the meantime I will let you know that I, of course, was not disappointed.