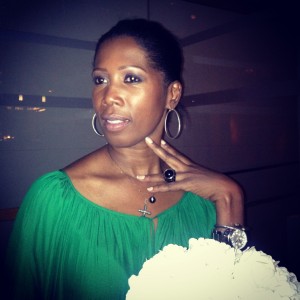 The first time I met Rhona Samuels was a few years ago at the Nordstorm Trend show. It's always a crazy madhouse in the beauty department after the show, but there was Rhona, all cool, calm and collected, looking beautiful in the crowd of frantic women wanting the latest from the beauty show.  She took one look at me and said "I want to do your eyes" and to this day it was one of the absolute most beautiful looks I've ever had on my eyes.  Rhona told me she's been called the "Eye Doctor" because of how she does women's eyes using color combinations and techniques that aren't common, but look stunning.
Rhona travels the country and world over for Giorgio Armani and I thought it would be fun to catch up with Rhona and find out what not only some of her beauty secrets are, but how does a mother with young children do it all and what are some of her must-haves in life and how she got her start in the beauty business.
Embrace age at any age. Live your life. I wake up every day and say "Thank  you God".  Open your eyes, smell things around you, get up and be thankful I'm healthy. – Rhona Samuels
How did you get started in the beauty business?  I've always had a fascination with beauty and hair when I was young. I always liked how it could enhance you, not necessarily change you. In the 1990's I was Hugh Downs' assistant. Every Friday I'd walk with him down to the studio where the makeup artist would apply his makeup for TV. I'd converse with the makeup artist and was intrigued by colors and palettes. I was very into skin and I was fascinated how using makeup took off years. I thought one day I want to do that. I really looked forward to Friday and the transformation.
After that I moved to DC and worked an HR position. I love HR and how it helps and empowers people. One day I was introduced to the head of the makeup department, Larry Drum, and our friendship grew. I would visit during lunch breaks with him and ask questions and learn all about color schemes and palettes.  A few years later my husband was transferred to Houston and I said goodbye to ABC.  I took time off to get acclimated and ran into a woman who told me my makeup always looked incredible. She arranged for me to meet with an artist and I was hired on the spot to be a makeup artist. I started with Lancome, it was a great place to learn the nuts and bolts  and felt it was my calling to do and master my craft. 13 years later here I am with Giorgio Armani and every day is a new day. I discover something new every day.
You seem to have traveled the world over. What's your favorite place you've been to and why? I love Paris. I've been there a few times and it's absolutely beautiful. It's very romantic, rich in history with the buildings and architecture. I like the hot weather and the subways are easy and the people are friendly.
Since you travel so much, what do you like to do when taking a vacation?  I'm an island girl as I was born in Jamaica.  For down time I do like to travel with my family, especially to the beach.  My down time is with a cocktail and a good book.
Which hotel has been your favorite to stay?  I really like the Ritz or Westin, it depends on which city I'm in. But I recently stayed at the Biltmore Astoria in Arizona and I loved it!
What are your travel must-haves? I love my Louis Vuitton Neverfull bag. It holds a lot! My Tory Burch flats are great for city walking  and I put on my YSL pumps for a night out. I never take off my John Hardy cross (you can see her wearing it in the image at top) I feel it's my protector. And I always have a picture of my family; my husband and two daughters.
What do you find that women over 40 are looking to "fix"? Women in their 40's and over tend to want to find a "new me".  They want to revive the eyes and get that sparkle back. Their skin becomes more dull and they see changes in their body.  I say use a really good eye cream and serum!  Serum is the best answer there is – you must use a serum!
Did your mother give you any words of advice that you have passed down to your daughters?  Take your makeup off at night. Stay out of the sun. My mother is 91 and looks like she is 70.  Less is more and if in doubt, don't do it!
Have you ever done anyone's makeup that you were "star struck" while working on them? Joe Biden. I did the makeup for Dr. Jill Biden, who is very lovely, for the inauguration and spent nearly the whole weekend at their residence. I've admired Joe Biden for years and when he walked in and asked for a touch up I was star struck.  Although I was once doing makeup at an event hosted by Maria Shriver and Sandra Day O'Connor was there.  She maybe trumps Joe Biden! When I met her I thought "she's the 1st woman on the Supreme Court"! We locked eyes and bonded for about 20 minutes.  There was another woman there being honored for her work with helping underprivileged kids and this woman met with Sandra Day O'Connor and told her how years earlier her brother was accused of a crime against a white woman that he did not commit and Sandra Day O'Connor ruled in his favor.  It was very touching to see.
Any last bits of advice for women over 40 and what they should be doing with their beauty/skincare?  Take good care of your skin.  Invest in it.  A Clarisonic is  the best thing for a quick fix to rejuvenate your skin. Then be sure to follow up with a good anti-aging serum.  It will help to get the glow back in your skin.  Exfoliating is great, which you can do something as simple as a brown sugar exfoliant, but anti-aging serum is the best. That and some mascara will get you a long way.