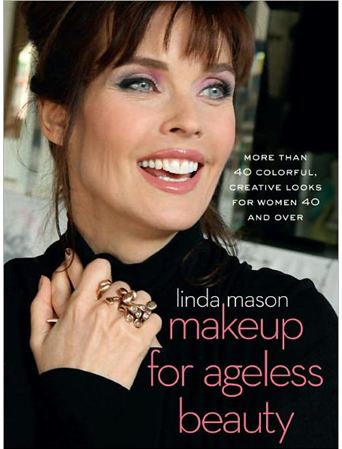 I received a copy of the new beauty book Makeup for Ageless Beauty, written for women over 40 by makeup artist Linda Mason. 
Linda has a makeup studio in NYC called The Art of Beauty by Linda Mason and over the years has worked with many top celebrities and models such as Brooke Shields, Paulina Porizkova and Anne Bezamat, Carol Alt and more. 
In this book, Linda touches briefly on preparing your skin – from sleep, food and exercise to creating a perfect canvas with concealer and foundation.   Then she gets into further details of how to create colorful looks.
There are 40 looks on women of all ages and colors featured along with the details of how she created the makeup looks on these women.   Diagrams with product colors and placement work to help you create the looks at home. 
Clearly Linda is not afraid of color, and she does not want us to be afraid either.   Just because a woman is over 40 doesn't mean she can't wear color on her face.   In fact, she embraces it.  Just look at the lovely Carol Alt on the cover and how she used color on her.  Not all the women in the book are models either, so you don't see only women with perfect, flawless, airbrushed skin.   She shows us how to work with what we have to enhance and make our lives a little more colorful.