"I was born with a makeup brush in my mouth, not a silver spoon"
 – Judith August
I had the fabulous opportunity to speak with Judith August recently, after having the opportunity to use her brilliant concealing products.   I loved hearing the story of this amazing woman and how she came about creating Judith August Cosmetics.   
Judith started as a model when she was just 15 years old and had a contract for 3 or 4 years with a major department store in LA.   She was "the face" of the store, as they say.   From there she went to New York to compete on a different level.   And the competition was great.  She was competing with girls that were 14, 15 years old, but her biggest challenge was they didn't have bags under their eyes like she did.   At that time, she was too young to have surgery, so in order to compete she had to learn how to have correct lighting and it began her passion for mixing makeup to cover her under eye area in a way that worked for her.   So young, and yet such an innovator!
Throughout the years Judith did a wide variety beauty industry jobs.   From an image consultant, to doing makeup training for airlines and various corporations to working for plastic surgeons to help their patients with covering up the bruising from cosmetic surgery, she was doing it all over the years.   Even opening her own beauty boutique while living in New Orleans in the 1970's.    The boutique was called "Let's Face It", and according to Judith, "I opened one of the first beauty boutiques in the South.   My store even got a contract with Lancome, which was very competitive to have received and the department stores weren't happy."   After doing that venture for about 10 years, she moved back to LA.
Judith had a turning point in her life.   Judith said "I received a call at 11:00 p.m., a woman was all in a tizzy as she wasn't sure what blue eye shadow to wear with a dress she was wearing to a luncheon the next day.   I decided right then and there that I needed to refocus on corrective needs."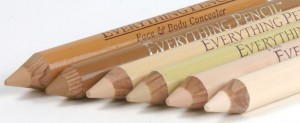 While working with a plastic surgeon is when she created her first product the Everything Pencil.  Judith had actually been out shopping for supplies for her job when she ran across a generic pencil  that only said "Made in Germany".    But it worked fabulously and patients wanted to know what the pencil was.   That was when she decided to create her own pencil.   Getting advice from the doctors as to what should be put into it, they requested things like Vitamin E, Aloe and other healing properties.   She then went to a pencil manufacturer to produce the new pencil.    It's called the Everything Pencil because that's what it does, everything!    From my personal experience, this truly is the pencil that says and does it all.   From covering dark spots to a vericose vein on my leg to broken capillaries.  This covers it all and completely.
 The product from Judith's line that I am absolutely in love with is the Orange Masking Creme.   Don't let the name or even the hue scare you.  It covers my under eye darkness like nothing before.  After using so many concealers that are yellow based, along came this one that is a flesh tone.   I truly thought it would look like I had peachy raccoon eyes if I used it, like many others have.  But this blended into my skin amazingly well without any shade markings and the coverage that is truly remarkable.   I am obsessed with the Orange Masking Creme!   You can use one or the other shades or blend them to get custom coverage that works for you.  I also have never had any settling in fine lines either. 
Judith also has several other products in her line, so be sure to check them out on her website.    I was so excited to learn that Judith is also writing a book that she hopes to have finished by Fall.  Not only do I love beauty books, but I am always eager to learn something new.   I think Judith will be a great teacher for all of us as this book isn't just about pretty makeup pictures, but about actually teaching us.  
Judith said, "Because of my husband's job, I traveled all over the world.   I recall one night while in Sierra Leone we were having dinner with the minister of something and his wife who was dressed in elaborate robes.   When she learned what I did with makeup she asked me if I could help her with correcting a mark on her face that bothered her."
 

"It made me realize that no matter where we are or where we're from, we're all sisters in this world."

  
"I beleive in a nip and tuck here and there without going crazy.   We live in a world that has so much to offer and why not take advantage of that.   If not choosing to nip and tuck there are other ways to look good too."
I asked Judith what she kept in her makeup bag, and surprisingly very little.
Of course the Everything Pencil
Fabulous Finish Foundation – it's a wonderful powder to cream foundation
A lip liner – finding the right one is important
Lipstick – private label stuff that's inexpensive.  I recently bought an expensive $30 lipstick and it doesn't stay on any better than my one that costs a few dollars.
Mascara – in black only
A little bit of brown eye shadow – you can try all the trendy colors, but your skin tone is either in a cool or warm tone.  There are ranges within those tones from light to dark, but realize that some of the trend colors are just not for you.
Judith's products can be found at JudithAugustCosmetics.com, (check out her blog on her site too – you might find some wonderful tips!) Beauty.com, and various salons and spas and major catalogs.
I loved talking with Judith, and I hope to someday meet her in person.  Oh the tips I could learn, but I guess I'll have to wait for her book in the meantime!