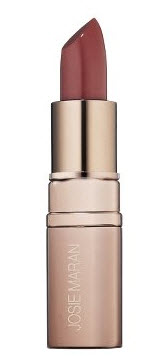 This past Spring, while in New York I had a little free time so I made a dash for Sephora.  It's right down the street from where I stay when in NYC – dangerous.  It's a larger store than the ones we have here in Minneapolis, so more product to oooh and aaah over.
I've been hearing rave reviews about the Josie Maran products and I hit the jackpot with this Sephora.  One of the products I've been hearing so much about was the Argan Oil.  At $48, I wasn't willing to spend that much on a product that I wasn't really sure how or what I'd use it for.   But the lipsticks, well I can ALWAYS use another one!  
I'd heard great things about these lipsticks as well – her products are all organic too.  I tried on a few different shades that I debated on getting because when you put these lipsticks on, they seriously are super soft and moisturizing.   Amazingly so.  I settled on the color Mysterious. 
Um wait,  about 1/2 hour later and my lips were seriously dry.   What the heck was going on?   How could something so soft and wonderful turn my lips so dry?   I used this lipstick for about 3 days and had the same result every time.   So I set it in my makeup bag giving myself a break.   Well about 4 weeks later I thought – I love this shade, I must give it a try again.   Only now the lipstick was like it was deteriorating and had broken in the tube when I hadn't touched it for several weeks!   It was getting all cracked and gross.   But not one to give up, I tried it again after "repairing" the lipstick in the tube, and I had the same exact results.   Super soft at first, and then very drying.
OK I surrender.   It's not all what it's cracked up to be.