Guerlain just released images of their Fall 2011 Collection which is simply gorgeous.   The makeup collection includes nine new sets of four-color eye shadow palettes, three new kohl eye liners, one liquid eye liner and three new Rouge G lipsticks.  From what I see, this collection will be as big of a hit as when they released the Écrin 6 shadow palettes.  However, this Écrin 4 Eyeshadow may be more popular because of its friendlier price of $59 vs $84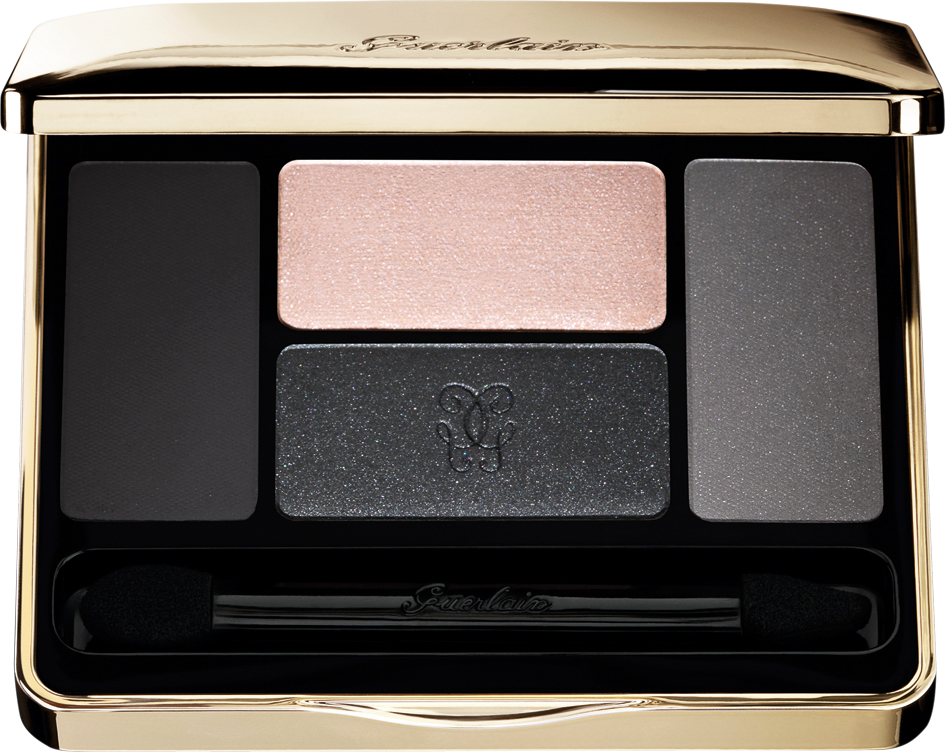 Just looking at the image above shows the tempting textures and colors.   It makes me want to take my brush to the image and hope that the shadow will attach magically to the brush.  The textures used were carefully selected to work together.  They include
Iridescent – tiny pearly particles that play with light and release luminous color with an iridescent finish

Matte – an extra-matte, ultra soft finish for ultimate comfort

Velvet Satin – a perfect glide for a velvety result that feels soft and delicate

Alcatar'eyes

– a metallic finish with unbelievable softness
From the image above I'd say the top pink shade is the iridescent, the matte is on the left, the satin is on the right and the Alcatar'eyes is on the bottom.  Below is an image of all nine gorgeous palettes available come August.
To complete the eye look there are three kohl pencils (below) and one liquid liner (above).   The bottle for the liquid liner is beautiful, almost exotic looking.  The liquid liner shade is 05 Brun Cendré – an intense brown at $35, while the kohl liners are $30 and cleverly named
20 Kôhl Me Navy

40 Kôhl Me Jungle
Last, but certainly not least, the new collection will include 3 lipstick shades in the Rouge G formula.
The three shades are
25

Garçonne

– a real red shade which was specifically chosen by spokesmodel Natalia

Vodianova

70 Gigolo – a pigment rich plum
71

Girly

– a pink shade
The makeup collection will be available beginning in August 2011.   The additions to the skincare line include an addition to the Orchidée Impériale collection with Orchidée Impériale Longevity Concentrate for $490 and the Abeille Royale Up-Lifting Eye Care for $120.  Both of these will be available in September 2011.