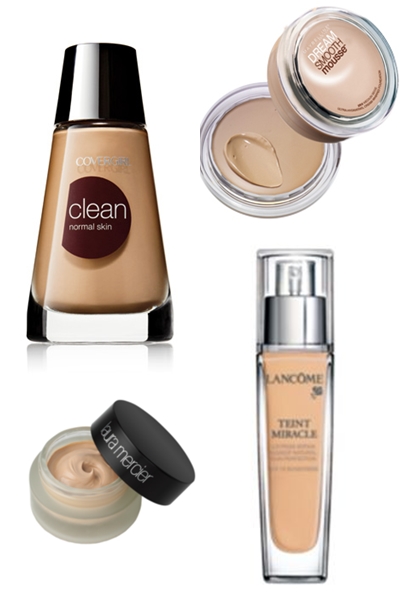 My biggest frustration in all of makeup is foundation.  I have a very difficult time getting that perfect match, some will look great at first, but then turn color.  Some will settle in fine lines over time, some will turn my face into an oil slick and others are just down right bad.
A few months ago I was reading Allure magazine and there was an article "Immaculate Complexion" where makeup artist Pat McGrath, the high queen in all things makeup, was interviewed and gave instruction on how to get the perfect complexion.   Pat has done several makeup lines from companies anywhere from CoverGirl to Dolce & Gabbana, and is one of the most sought after artists for the runway shows.   So if Pat says something, I listen.
There were 4 foundations she recommended for different looks.   The 4 are shown above, and I decided to test them to see what results I had with each of them and to see if what she said rang true.  She said that in order to get a flawless look she works only with liquid or cream foundations.  For sheer coverage she uses Lancome Teint Miracle, for a subtle look CoverGirl Clean Makeup, for a moderate look Maybelline New  York Dream Smooth Mousse Foundation and for a complete look Laura Mercier Creme Smooth Foundation.   Here are my results on each of these foundations:
Lancome Teint Miracle Lit-From-Within Makeup:  First off the shade selection is vast so you are likely to find a match with your skin tone.   If you already use a Lancome foundation, don't assume the same shade will work, it most likely will not.   I had a tough time going between a few shades to figure out which one works best on me because it has the "lit-from-within" reflecting particles it can be deceiving or a bit difficult to match.   That said, once you find the right shade it really is a beautiful foundation.   A step up from a tinted moisturizer for coverage, but yet gives you enough coverage to hide imperfections and the glow it gives your skin makes it look beautiful.   I've tried countless foundations that give you that "glow" and most just make me look like a greasy mess.   Not this one – it really is a dewy, fresh, youthful look.  It applies easily as well and lasts nearly all day.  $37.00
CoverGirl Clean Makeup:  This foundation comes in 3 formulas – Oil Control, Normal and Sensitive Skin.   I chose the Normal skin version.   Finding a shade can be difficult because there are no testers at the drugstore, so you have to hold the bottle up to your skin and try and find a match.  Not the easiest or most accurate.   I vacillated between two shades and ended up with 120 Creamy Natural.   Do not assume that if you choose a shade in one formula the same shade in another formula will be the same shade, it is not.    Creamy Natural in the Oil Control was vastly different and it has a different number associated with the color.  This foundation after 35+ years and many re-formulations (I remember my mother always used this when I was growing up) still has that same scent to it.  I can't quite pinpoint what that scent is, other than I call it "The CoverGirl Scent"!   How does it work?  Amazingly well.   I was very surprised.   It goes on easily and smoothly and stays put, doesn't settle in fine lines and the best part for me – it makes my skin look like nice, smooth, healthy skin.  No excess shine, no dullness, just nice skin. Around $8.
Maybelline Dream Smooth Mousse– Described as 'moderate' finish by Pat McGrath, I would say moderate to full coverage.   It comes with a sponge applicator and I found using it made the look very heavy on my face.  I suggest using a brush or your fingertips to get a lighter, smoother application.  It looks almost pasty in the jar rather than like a mousse, but it goes on nicely.   There's no glow with this foundation and on my face it was almost dull.   It did make my skin look smooth, but it didn't make my skin look youthful or fresh.  I would say someone with younger skin might like this best.  The shade selection is not great either. I used shade 180 Nude Beige and had just an OK match.  Would I buy this again?  Most likely not. Around $8. 
Laura Mercier Creme Smooth Foundation– This is to be the one with "complete" coverage.   I agree – this is full on complete coverage.    It looks lightweight and whipped in the jar, and that's deceiving.   It does not apply easily and I found the best way to apply it is to take a dab and rub between your fingers to warm it up and get it thinned out a bit that way, then apply with your fingers to your face.   It takes a bit of work to make this go on smoothly and quite frankly, I don't want to spend that much time on a foundation to make it look good.   After wearing it for a few hours, it felt filmy on my face and actually my skin looked better without any foundation than using this.  I was greatly disappointed.   The shade selection is sparse – online shows 12, but in Sephora I only saw a spot for 6 shades.  I'm between the Warm Ivory and Sunny Beige shades.  $50 and glad I didn't purchase, but only got a tester sample from Sephora.   
Do you have foundation issues like I do?   What foundation have you found to work best?  I'd love to hear from you!