On my recent trip to NY I had the opportunity to go the Lancome offices and meet with the lovely women in the PR department, Patricia, Kerry and Erin.  They knew of my predicament of no luggage, meaning no beauty or skincare and were so kind to give me some product.  I'll tell you more about some of the items coming up, but the one product that stood out right away was this newly reformulated neck cream, Rénergie Lift Volumetry Neck.  I've never used a neck-specific cream, just my night cream on my neck.   I could always tell when I had skipped using my regular moisturizer on my neck as the wrinkles would become more prominent.      
Before images (top 2 photos)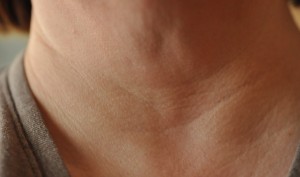 In the last year my neck has really started to show aging faster than I like.  A few deeper wrinkles, sagging, loss of elasticity and overall aging.  In my opinion a wrinkled, saggy neck can age you faster than a few wrinkles by the eyes.  I started using this Lancome cream on a Friday and by the next Wednesday I had these results already (below, after shots)
I know the lighting is different, I tried to get the same lighting as the "before" shots, but couldn't.  I think you can still see the amazing results in one short week!  Now after two weeks of using Rénergie Lift Volumetry Neck I still look in the mirror in amazement.  My deeper lines are less pronounced, the fine lines are nearly gone and the firmness, especially under the chin area is well, less saggy.   I don't think I will ever be without this cream. 
**I took this image today – less than 2 weeks after using the product. I just felt this lighting was more similar to the "before" lighting. 
Product given to me by Lancome, amazing results and opinions are my own.