Sometimes the Fabulous Over 40 celebrities don't look quite so fabulous on the red carpet.   It makes me wonder
What were their makeup artists thinking?!  
Take Catherine Zeta Jones at the Tony Awards just a few days ago.  I think she may be trying to channel 1978!   That blue eyeshadow is a bit much and then that curling iron roll in her bangs.  This is really not a good look for her at all – or anyone over 40.   Where's the sophisticated Catherine that we're so used to?  
Look how much more classy and sophisticated she looks here.   A soft application of shadow, heavy on the liner, the perfect shade of lipstick for her skin tone.    This is the Catherine look we love!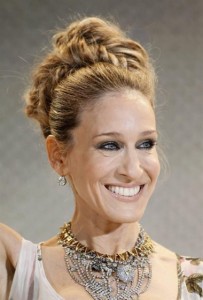 Sarah Jessica Parker shown on the runway in Japan for SATC 2 premier.  She is so washed out in that dress color and the shade of nude lips does nothing for her.  But most of all, her small face and small eyes look so harsh with the intense black eyeliner.   In fact, during the movie my girlfriend leaned over and whispered to me, "I like her look so much more when she has less eye makeup on.   It just makes her look old when she wears such dark makeup."   It's true – be cautious of severe colors in your makeup when over 40, it can be aging.
Now this look on Sarah is beautiful.  She has a soft smoky eye, but instead of harsh black it's a soft plum shade and the blending is beautiful.   This nude shade of lips on her is the perfect nude for her.
I don't think Kim Cattrall's makeup is bad here – it's just unfortunate that everything from her head to toe is all the same shade.   She has a larger than life personality in SATC and this look just makes her fade into the background.  Either her lips needed a bit more color or the beautiful dress would have been better in a deeper shade. 
Here's Kim channeling her Jessica Rabbit look, and she is wearing it well!  The bright lips, the extra long false eyelashes all say va-va-voom!  Her makeup artist did it perfectly at this red carpet event.
I normally love how Brooke Shields looks.  She has such an expressive face and such a lovely smile and her trademark eyebrows still frame her face.   But for this occasion she looked like she was asking Morticia Addams for advice on makeup
Now here's the Brooke we love!   Soft, to-die-for beautiful and she wears her makeup, it doesn't wear her.
And just because she's so beautiful, here's another one of Brooke.    Thanks beautiful Fabulous Over 40 ladies!