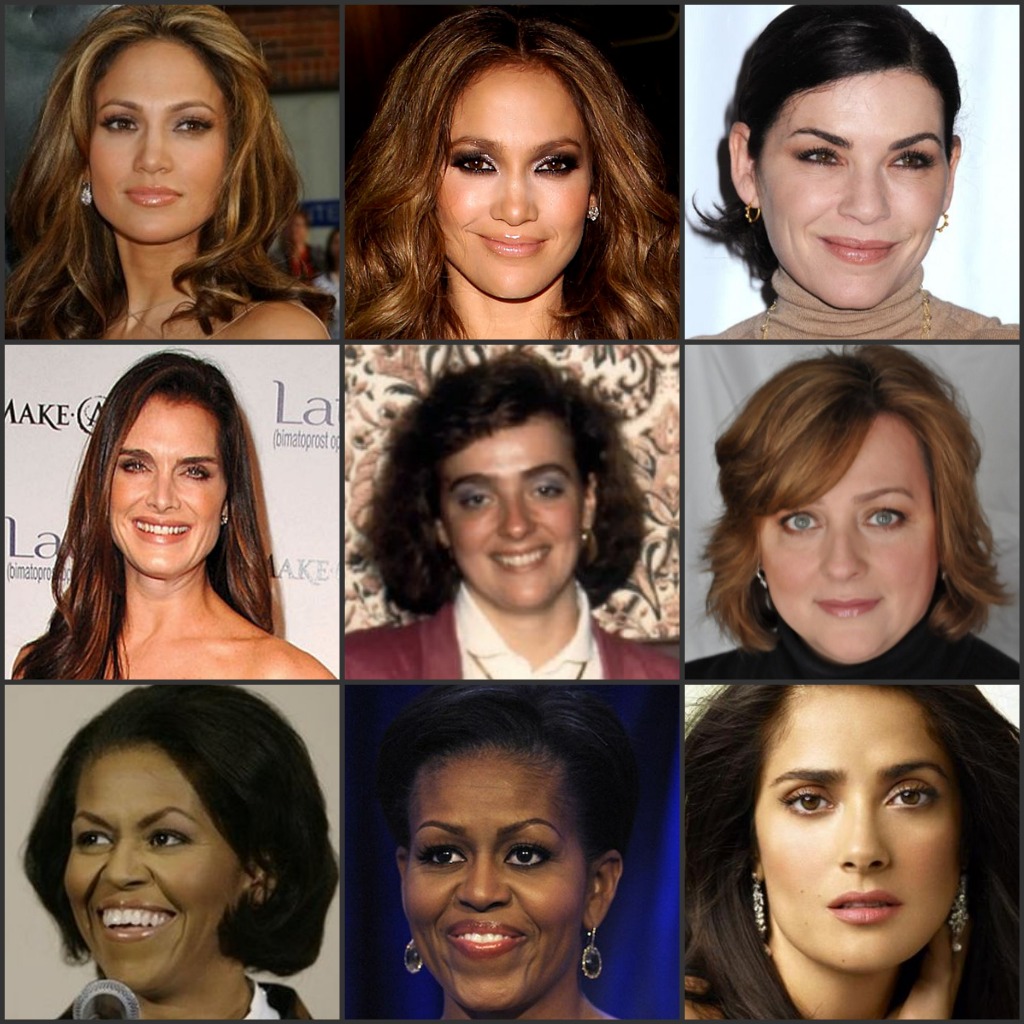 One of the very first things I notice when I meet people are their eyes and eyebrows.   In my personal observation I've noticed that people over-pluck vs under maintain.   There's the too short (on both ends), the comma, the archless, the over-plucked, the half-circle, the surprise, I'm sure I could go on but you get the the idea.
I've always said that Brooke Shields doesn't have anything over me on the eyebrow front – and yes, that's me in that 1980's photo. (My family had a good laugh this weekend on that photo!) That's with plucking my eyebrows and shaping them, too!   If I didn't back then, I'd have one major unibrow and I'm not kidding.  Now, because of age, a thyroid condition and having them overly waxed by a so-called "professional" they are no longer as thick as they used to be – and that's OK, there is still plenty there.   But, I definitely need to groom and fill in my brows daily.  If not, they'd look sparse, grey and out of whack.  So yes, our brows change over time and that's OK.
Keeping your brows full and shaped gives your face a more youthful look.  Above are a few over 40 women and various brow shapes. On the top left is JLo with precise eyebrows, and now she has let them fill out and become a bit more "natural" looking.  Julianna Margulies has enviable brows – perfectly shaped and nicely full.   Brooke Shields is still known for her signature brows.   Yikes!  80's hair, blue eye shadow and super-thick brows.  Now, nearly 30 years later they are more thin and lighter in shade, but groomed.  Michelle Obama's brows used to be more harshly pointed and overly arched, now they're still quite arched but softer and gentler, giving her a friendlier look.  Salma Hayek shows that you don't have to have a very defined arch to still have a nice looking, full brow. 
Below is a chart showing where your brow should start, arch and end.   Hold a pencil vertically from the nostril area of your nose (A) follow this line – this is where your eyebrow should start – not inward to the pupil.  (B) is where your brow should arch – slightly past the pupil of the eye.  From point A-B your brow should be a smooth line that may gradually thin just past the arch.  Do not have a thick end at point A and go very thin by the arch – I call that the "comma" brow.  Take a pencil and go from the nostril to past the outer corner of the eye – this is where your brow should end (C).  However, to keep your eye area looking more youthful, keep the end area (C) from pointing downward too much – it brings down the eye area making it more aging.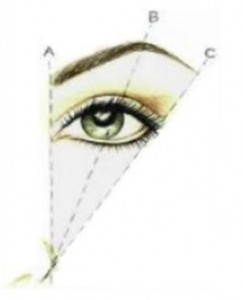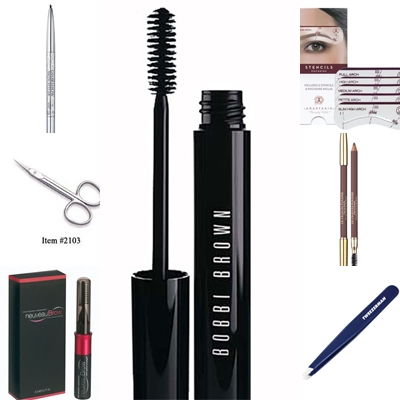 Here are some points and products regarding eyebrow shaping, filling in and coloring.
1.If you don't want to go to a brow specialist, then these Anastasia templates are a great alternative.  (top right).   There are 5 template shapes to closely match your brow style and they give you a great shape.   Fill in the template with a brow pencil and pluck elsewhere and you're practically guaranteed fool-proof perfectly shaped brows.
2. Make sure you have an excellent tweezers that remains sharp.  I've used Tweezerman tweezers for years and bar dropping them on the tile bathroom floor like I've managed to do quite a bit lately, they stay sharp and pointed a long time and get the tiniest hairs. (bottom right)
3. Trim your brow hairs with a small, sharp, pointed manicure scissors.  Take a spooly brush and brush your hairs upward and trim the really long ones to keep them in line with the rest of your brow hairs. (middle left)
4. Fill in your brows to give them more definition with a brow pencil like the Diorshow Brow Styler or Lancome Brow Pencil.   The Diorshow one is a universal shade with a very fine tip on one end and a spooly brush on the other end.  The Lancome one is a regular sized pencil that comes in a variety of shades and a spooly brush on the other end.  After you've filled in your brows, then use the spooly end to put your brows into place but also to smooth out the pencil markings blending flawlessly. (top left and middle right).  Use a lighter shade than your brows, otherwise your brows will look too dark and fake rather than natural.
5. Do not pluck gray eyebrow hairs.  I know if I did that, I'd practically have no eyebrows left!   Instead, use a colored brow gel.  My favorite is this one by Bobbi Brown in Auburn.  I have medium shade brows and the auburn shade makes them the perfect shade with my hair color, which has a hint of auburn.  It's available in a variety of shades. (middle)
6. If your eyebrows are sparse, you've over-plucked or just need some basic fill-in, try Neuveau Brow to grow more full, thicker lashes.  (bottom left).