essence of BEAUTY is a line of beauty products available at CVS that are great quality and budget minded.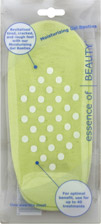 Take these Moisturizing Gel Booties.   Slip them on your feet for at least 20 minutes and the gel is infused with a grape seed oil and vitamin E to moisturize and sooth the tired dogs.  
The same with these Moisturizing Gel Gloves.   Keep your hands soft and smooth.
Either of these are only $16.99 each.  I've seen other more famous brands for over $45 each.
Looking for a natural loofah to exfoliate your dry skin?   Theirs is only $1.99.    Yes, you read  that correctly.    $1.99!
But one of the most amazing things in the product lineup are the makeup brushes.   Natural and synthetic hairs, these brushes are not skimpy on quality, just because the price is inexpensive. 
The Kabuki brush is a beautifully thick brush that is comparable to other brand Kabuki brushes that are soooo much more expensive. 
They have face and eye brushes available individually or in sets, and in travel pouches as well.   The prices begin at $4.49 on up, but most are around $10 (and some are $10 for a set!).  
I love this Beauty on a Budget!    Be sure to check out CVS and essence of BEAUTY for your budget beauty buys.