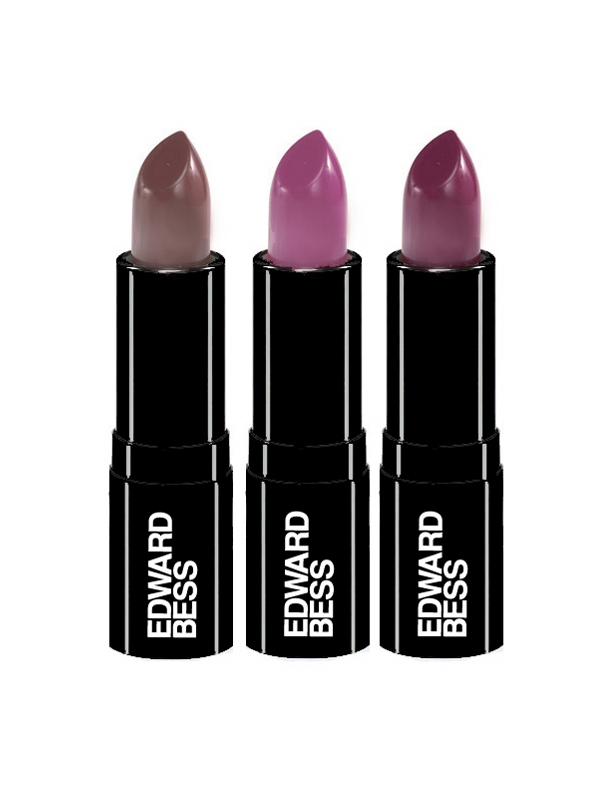 While in NYC a few weeks ago (I can't believe it's been that long ago already!) I made a Bergdorfs stop that I was looking forward to for a long time.   I didn't get a chance to visit with Edward Bess, creator of the eponymous line the previous time but I was lucky enough to this time. 
Again I was amazed at his memory.   His space at Bergdorfs is no longer a glass etegere, but a full counter space and one that is well deserved!   Because he had moved I didn't recognize his new digs and walked right on by.   Guess who said – "Kari".   I thought – well, I'm in a city of millions of people – who would know me?   I turned around at the oh-so-slight chance that someone was calling out to me and sure enough it was Edward Bess himself and he remembered me again!   His charm and kindness still win me over  – along with his fabulous products!
He has added some new shades to his lipstick and lip gloss collection that are so beautiful I could use one of each!  These shades have a bit more plum/pink tone to them than the previous colors in his line, and the shade Tender Love was perfect to give my lips a polished look.  He topped that shade with the gloss in Nude Satin, and they both are such gorgeous shades they can be worn alone or together.  The Nude Satin shade is actually a bit deeper and a bit more plummy brown than the shade shown here.  There also is a new lip liner to the collection that is in Natural.   I was actually the first person to purchase a lipstick and gloss from the new collection!  The Edward Bess lipsticks and gloss are so unbelievably creamy that everyone should have at least one!   
The eyeshadow trio isn't available until the holiday season and this gorgeous compact is called Island Escape.   It has three universally flattering shades and of course the shadows are as luxurious as you would come to expect with his products.   I can't wait to see these in person, I know I will be drooling like I am just looking at the images. 
Also for holiday there is this great combination of products called Jet Set that's comprised of the beautiful Island Escape shadow trio, a blush called Island Rose and the lip liner in Natural all in this black canvas travel bag for $125.   
If you get a chance to stop by at Bergdorfs be sure to check out his line and tell him "hi" from Kari!