Dior Holiday Collection 2011 is Les Rouges Or.   New for the collection is a 5 Couleurs Eye Shadow Palette in Couture Golds, 4 new nail polish shades and 4 lipstick shades in the Rouge Dior formula.
For glamour and wearability Dior nailed it this year for the holidays!   (And I'm not just saying that because I work PT selling it!)   The 5 pan shadows were slow to arrive from France and are just hitting the stores now and it's sure to sell out quickly like most of this collection.
Above are two photos of the palette – left from the Dior website and right from my iPhone camera.   The shades are a cream, gold and taupish golden shimmer with a pearly white in the center that is heavy shimmer borderline glitter and then on the bottom left is a dark brown/black with a very slight shimmer.  This palette looks good on people with cool and warm tones and is something that can be worn once the holidays have passed.
The nail polishes are a shimmery gold in Or Divin, the khaki green gold is Exquis, an orange red with a lot of gold shimmer to it is called Mervielle and Apparat which appears to be a rust red with gold shimmer when looking at the bottle, but when applied it's more burgundy red with golden shimmer.  I purchased Apparat and am contemplating Exquis too, however, the Or Divin shade is just not me.  I like doing colored nails, but a solid gold like that just isn't me.
For the lips the shades are Or Etoile a gold that looks beautiful when layered with the other shades, (either on top in the center of the lips or as a first layer under another shade) Versaille is a nude shade with a touch of pink, Nocturne is a rusty burgundy red worn by the model on the image above and Belle de Nuit is an orange toned red with gold shimmer.
Their palettes this year are fabulous too!   Encased in a black and grey tweed fabric with accents of the signature black bow and Dior charm are a face palette, lip and eye palette and a brush set.
The full face palette is what artist Timm used on the model Carrie at our blogger event last week.  You can see photos of her look here.  It includes a pale pink, taupe/silver and purple shadows along with a deep purple eye liner.   There is a DiorSkin Nude Sculpting Powder, a lip balm, 2 lip shades a Dior Iconic mascara and brushes.  You can get your whole look done with this one set for $77.    A good value compared to the face shimmer alone that Chanel has for $72.
The 4 pan lip set includes a lip balm, a gloss and two lipsticks with a brush applicator and the eye set includes beige, golden tan and golden brown shimmers as well as a brown liner along with brush applicators.  Each of these are $46.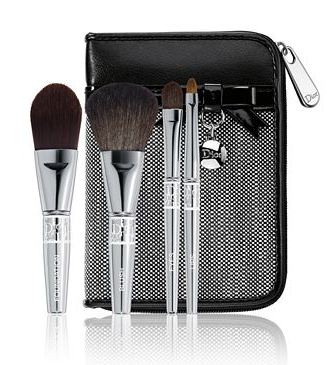 The brush set sells for $62 and they have mini handles but full-sized brush heads.   The set includes a foundation brush, blush/powder brush, a shadow brush and a lip brush which personally I would use as a liner brush and not a lip brush.
All of this collection is limited edition for the holidays, but is selling out fast!   Call me if you are interested in anything  952-924-6671.
Images: Dior, Macys and Fab Over Forty