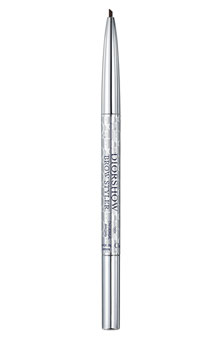 I have to admit, when Dior came out with this eyebrow pencil/styler, I thought – what's all the whoop about?   I mean it's an eyebrow pencil after all!   Doesn't every makeup line have one?
Then last week I went to a Dior event at Nordstrom's MOA and the artist used it on me.    I have to say, I was impressed!    Most eyebrow pencils come in a whole range of shades and you need to pick the one that compliments your eyebrow color and skin tone – which I've done that for years.  But this one has only one shade, a universal shade for all eyebrow colors.
The artist showed me her brows which she had used it on and they looked as natural as could be and matched her very dark brow color perfectly.  I figured there was no way that it would work on mine.   I don't have real light brows, and certainly not as dark as hers so I didn't think it would look as good on me.   She applied it and amazingly my brows looked filled in and it matched PERFECTLY!   
I'm not sure how one color can be so universal, but Dior certainly has done it!    The pencil is retractable, so no sharpening needed and the tip is ever so fine, so no need to worry about dark, heavy clumps of color.  At the opposite end is a spooly brush – use that first to get your brows in the right shape so you can fill in where needed and then after filling in with the pencil, run the spooly brush over them again to blend it all in perfectly.   The other thing that is wonderful is that this stays put all day without looking fake!   I definitely purchased this on the spot and am thrilled that I did.  It's higher in price than some, but worth every penny to me.