Congratulations to Cynthia C who was chosen as  the winner by Random.org
Are you all ready for the start of the holiday season?   I discovered this great set while at Macy's Minneapolis the other day and had to get one for a giveaway!  
You get this great Coach makeup bag, online shows a cream colored bag but the one I have is a holiday red color.  Inside the red bag is an assortment of Estee Lauder makeup, which includes:
Pure Color Lipstick in #26 Nectarine – a pretty holiday red
Pure Color Lipstick in #57 Autumn – a deep plum
Lipgloss in #25 Praline Paradise Shimmer – a warm, bronzish pink
Eye liner pencil in #01 Soft Smudge Black
A compact with a trio of eye shadows and a blush which includes the shades #10 Ivory Slipper in Satin, #47 Nude Fresco in Satin, (a pinkish tone) #71 Enchanted Forrest a Shimmer (a silvery green shade), and blush in #13 Rosewood.
Travel sized blush and eye shadow brushes
I am giving mine away to one of you, but you can purchase your own for $35 with any Estee Lauder fragrance purchase.  *Please note the cream bag has different colored product too.  This is great for yourself or as a gift.   Estee Lauder has some wonderful holiday sets in beauty and skin care so be sure to check them out!  Like this one shown below – all of this is only $55 with any Estee Lauder Fragrance purchase.  An incredible value!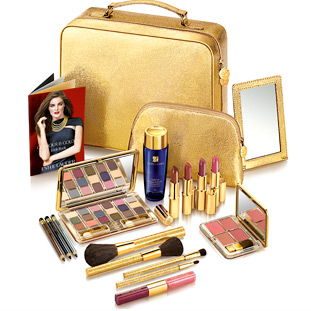 To enter to win the red Coach/Estee Lauder set, enter your name in the comments.   It's that simple.  Besides, life is hectic right now – we don't need complications!    One entry per person, and contest runs thru Wednesday, December 1st at 11:59 CST.  Winner will be randomly chosen.   Good luck!