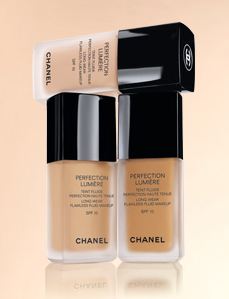 Chanel's latest foundation, Perfection Lumière has arrived at most stores and online in the last few weeks.   I've heard that they are replacing Pro Lumière with this foundation, but as of now both formulas are available – at least online.  When it arrived at my local Macy's last week I asked for a tester sample to check out the new formula.
Perfection Lumière is a long wear formula with minimal SPF 10.  Typically when I hear the words "long wear" images of pasty, dry, heavy type formulas begin to conjure in my head.  This new formula is far from any of that.  In the summer and even warm fall days my skin can be extremely oily and makeup can slip right off.  A struggle that many of us oily faced women have.  But, I want a foundation that gives me some light coverage and to last more than two hours would be ideal. I should mention, this is not a problem for me in the winter when my skin is drier.  So of course my skepticism gets me right away that this will be something that I would like.   I was pleasantly surprised.
It is a light to medium weight formula and I have to say, it left my skin looking flawless.  It didn't dry or become pasty as the day wore on and while I wouldn't say it lasted all day – which when I hear all day I think at least 10 hours, it did last a good 6 or 7 hours on my oily skin.   When wearing it I didn't have the heavy mask feeling a long wear formula can have, this actually moves with the skin and doesn't settle in fine lines.  It didn't absorb any oil on my skin, but I did feel it was a bit more under control.
Since I'm a big believer in spending money on a good foundation, I would say if you need a long wear formula or have oilier skin that tends to lose foundation on the face quickly, this may be a good option for you.   I'm actually holding out to see what Dior's new Forever Foundation that has been reformulated is like before I make my decision between the two.  I just saw in a Macy's flier that it's Beauty Week now thru the end of the month and you can get a 10 day supply of a foundation at any counter for free.  A good way to try this one out.
And I should mention, lovely reader Rosa informed me that Chanel is now offering my favorite foundation brush!  It used to be available only in Europe and last year in a mini size at holiday and now you can get it in the US.  Thanks for letting me know about that Rosa!
image from Chanel