Burberry Beauty continues to impress me with their very wearable colors, beautiful textures and incredible quality.  Their Spring/Summer Collection had just enough pieces to add a few of them to my existing Burberry products and round out my personal collection to give me even more versatile, wearable daily looks.
While difficult to differentiate these two looks, the one on top is called "Warm Sunkissed" and the one below is "Natural Femme".  Either one gives you a beautifully polished, no-makeup makeup look.  
I know many women over 40 who fear or have given up on wearing makeup.  If you are in that category I urge you to consider Burberry.  You won't find any overly shimmer products or bold, bright colors.  The shades are made to enhance your skin tone and the products are creamy to use so nothing looks dry or is difficult to apply because of the texture. 
The difficulty in the line is the limited availability to 5 Nordstrom stores and Burberry and Nordstrom online.  My local Nordstrom doesn't carry it, nor does the local Burberry boutique, so I've had to call Nordstrom in Chicago and have had great success with what I've ordered. 
The Lip Cover (they don't call them lipsticks) shown above is #23 English Rose from the Spring/Summer Collection.  This is continually a go-to lipstick lipcover because of its creamy texture, lip moisturizing and the natural polished shade it gives my lips.  This shade is my lips only better.   They added 3 shades for the collection, but I chose #23 because of its natural lip shade.
The blush from the Spring/Summer Collection is Misty Blush #08, which is sheer in texture, but a bright pop of color.  What makes it work and not look ridiculously bright is the sheerness to the powder.  Again, 3 blush shades were added to the Spring/Summer Collection, a more neutral and more peachy shade were the other choices.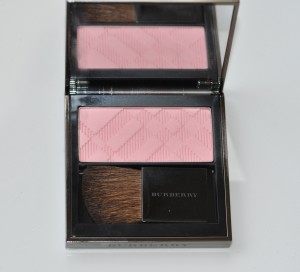 The two images above are my own shots of the colors. 
Since the Spring/Summer Collection they have added sheer lipstick, but I have not tried them. However, Gaia at The Non-Blonde has a review of one of the shades up.  As I said previously, everything in this line is so beautifully creamy that it works fabulously on skin over 40.  The eye liners I have are some of the best and the lip pencil I received with this collection (Sepia #03) as a gwp is the best lip pencil I've ever used.   I'm not a fan of lip pencils on a daily basis, but this one is wonderful enough to make me reconsider.  This shade is perfect too.  Don't be thrown by the name Sepia – which I tend to think of as a dark brownish.  Instead this is a warm rose shade.
The only thing that stands out as missing from the Burberry Beauty line are brushes. 
Currently the only brush available in the line (rumored to expand later this year) is this kabuki style brush made from pony and goat hair.  It works beautifully for applying the Warm Glow (bronzer) and for blending.  I consider it to be a bit large for applying blush.  This is the softest, most incredibly beautiful face brush I own.  I'm glad the sa convinced me to purchase it.
Images Burberry and Fab Over 40