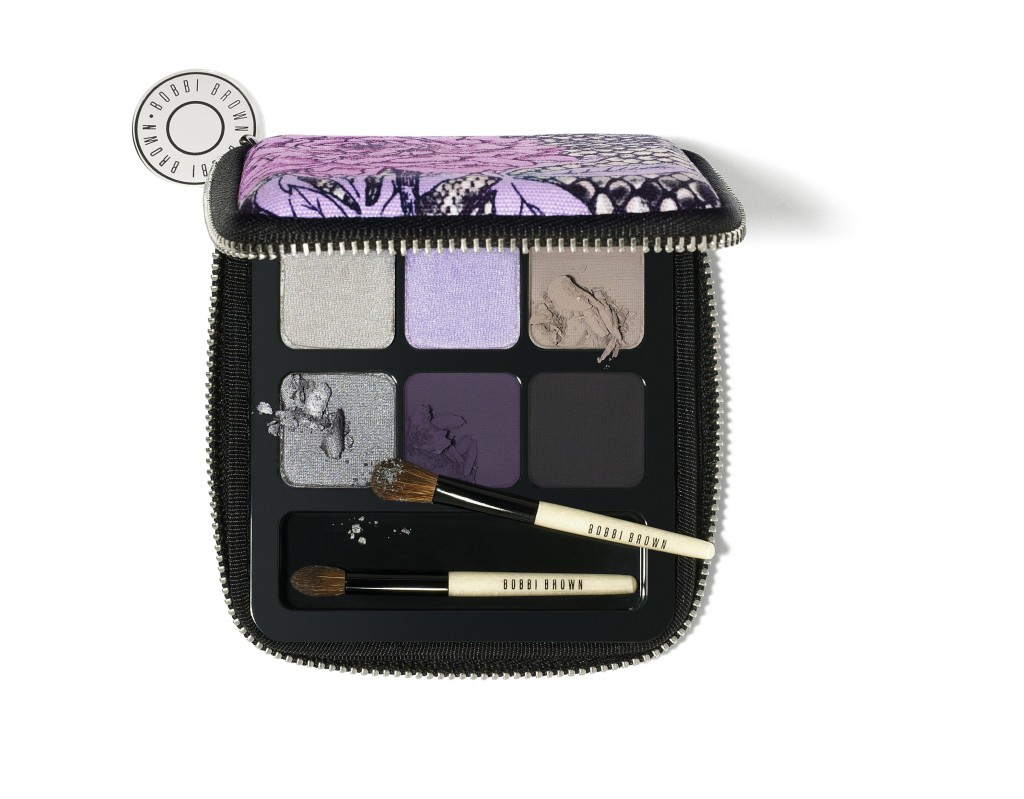 I think that this is one of the prettiest Bobbi Brown palettes to come out in a long time, the Peony & Python Collection.  From the outside in, it's gorgeousness all around.  No neon pinks or oranges here!  Bobbi collaborated with designer Tibi to create the case of a python print with a lilac peony overlay print.   Peonies are my all-time favorite flowers, so of course I would love this!
There are 6 shades, which only includes one of the shades as a re-launch.  The two brushes included are full head brushes on mini handles.   One is a shadow brush and the other, which has never been included in a mini version before, is the smudge brush.  
The shades included from top row left to right are:  Opal (cool pale grey), Lavender Metallic (light lavender), Cool Ivory (grey/taupe).   On the bottom row are shades: Cobra Shimmer Wash (Cool medium grey), Plum Orchid (Deep plum black), Eclipse (a dark black).
I used the Opal shade all over my eye, then the Lavender on the lid.   On the inner corner I placed the Cobra Shimmer Wash, in the crease I used the Plum Orchid and for the liner I used the shade Eclipse.  I like that you can go from light to dark with this palette.  Use only the light shades for day and the Plum Orchid or Eclipse for liner or you can go darker than I did using the Plum Orchid on the lower lid and using the Cool Ivory or Cobra Shimmer in the crease and Opal under the brow. 
It's a very versatile palette and definitely pretty for spring!  It measures about 3″ square and is easy to toss in your bag for any time.