Beauty tips for women over 40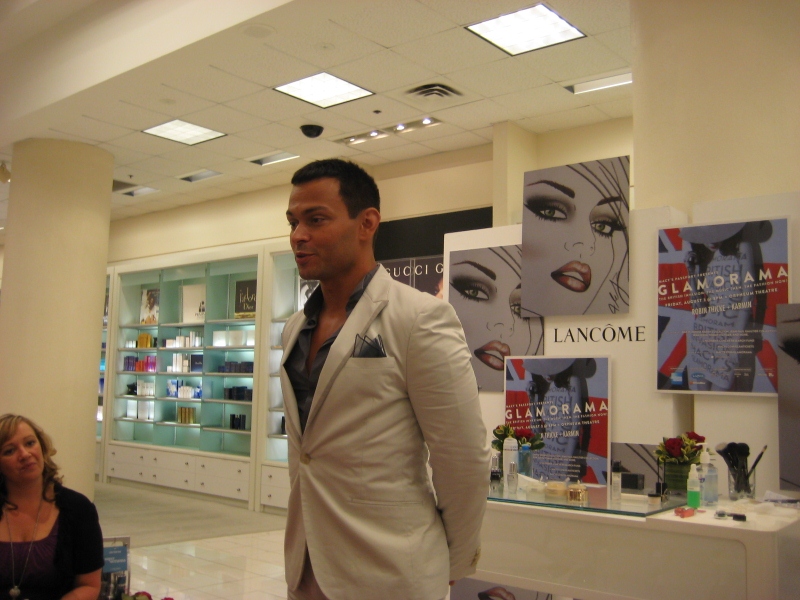 Last week Lancome National Makeup Artist, Alex Sanchez was in Minneapolis for Glamorama. Whenever he's in town Lancome and Macy's do these wonderful workshops where everyone attending gets to not only learn about Lancome product, but afterwards gets a one-on-one session with Alex. He does an amazing job of makeup and has some wonderful beauty tips.  Here are some more of his great makeup tips in the past for Fab Over 40 readers.
We started the evening with a sensory experience of tasting a caramel filled chocolate while inhaling the scent of the newest Lancome fragrance, La vie est belle. It's main flower note is iris and it has a caramel/sugar dry down. Breathing in the fragrance in its dry down scent while tasting the chocolate at the same time was an interesting experience!
We learned a lot about the Lancome skincare line and how the Absolue line is an excellent choice for pre to post menopausal women, helping to restore firmness and elasticity – a major issue for women over 40. We also learned about Visionnaire – which evens skin tone, helps with wrinkles and pores and that one out of two women tempted by a cosmetic procedure decided to postpone that procedure after using Visionnaire. Most of you have probably heard of or tried Genifique and it's been talked about several times on The Dr. Oz Show about how it works, but the newest product is the one I was really anxious to learn more about.
Genifique Eye Light-Pearl is the newest addition to the Genifique family.  It's an eye illuminating serum that every person who has worked too late, partied too much or just plain has tired looking eyes, needs to make their new best friend. The pearl drop shaped tip is stainless steel with a polished diamond powder tip that rotates 360°  Use it to get into the inner corner, under the eye, under the eye brow and on the outer eye, it moves with the contour of the eye area. Take the tip with a small amount of product on it and run it over these areas and then go back and let that little pearl swirl around those areas working the product in and cooling the eye area while doing so. Your eyes will thank you.  Studies done have shown that within 4 weeks there was a visible difference, I noticed within a few applications.  I was instantly in love with this!
Here I am with Alex after my makeover. Some additional beauty tips that Alex had that evening; warm the foundation up on the back of your hand with the foundation brush and lightly "kiss the skin" with the foundation brush. Don't apply foundation heavily all over the face, just lightly touch the areas that need to have the skin evened out. Also match your foundation to the face – don't try and go darker to give your skin a warmer or darker look as it just ends up looking like a mis-matched ring around the face. Add color and depth with blush and bronzer. Alex recommends using Teint Idole Ultra 24 Hour foundation for the busy woman who needs to keep looking polished throughout the day.
Another great tip with blush – you know how for years you've been told to smile and apply the blush on the apple of the cheek? Well, no longer!  Don't smile, just keep your face in a normal look state and apply the blush on the top of the cheek bone area/upper apple of the cheek.  This gives the face not only color, but "lifts" the look of the face. Also, don't be afraid to step out of your safety zone with color. Alex used the Mint Jolie Color Design 5 Shadow and Liner Palette on my eyes – a palette that I normally would have passed by, but loved how he created a day look and a more intense evening look with the shadows. He calls the Color Design 5 Palettes "as easy to use as paint-by-numbers" with their easy to follow numbered chart for placement on the eyes.  He also used the Rouge in Love line on my lips in the Corail in Love shade and topped it with La Laque Fever gloss in Ravishing Coral. Again, shades I never would have used, but really like them both.
Be sure to check out Alex and more of his beauty tip videos at Lancome.com and check out Fab Over Forty Facebook Page for more photos from the evening.