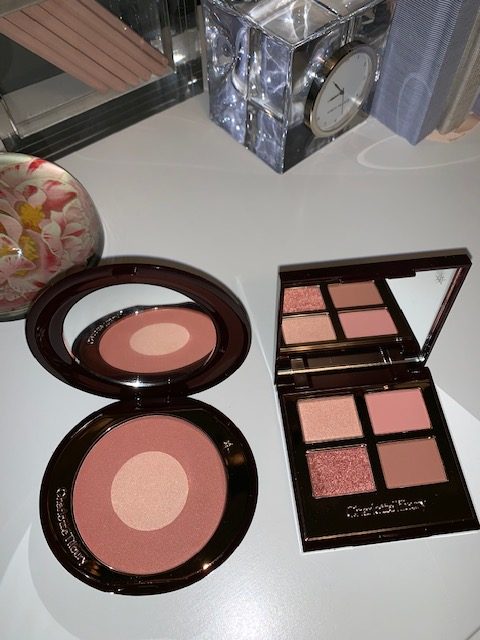 One of the more highly anticipated beauty collections has been Charlotte Tilbury's Pillow Talk. The lipstick and lip liner has been out for quite some time and was a huge hit which sold out repeatedly. It brought about the idea for more of the collection. A few weeks ago the highly anticipated blush and eye palette hit the stores.
By many of the images I saw, I thought the collection would be more of baby pink shades and wondered how wearable they would be if you weren't a blonde. I was quite surprised at the tones – they were much more warmer than baby pink. And for me, more wearable.
The blush completely surprised me as to how warm a pink it really is. The pigment is intense, so a very light, fluffy brush is best for application. Like all the other blushes by Charlotte Tilbury, this one too has a center highlighter so you're able to swirl all together to make a soft shimmer or separately to apply the blush and using a smaller brush apply the shimmer on specific areas of the face to highlight or add that glow back into the skin.
The quad eye palette consists of the "prime" on the top left, the "enhance" on the top right, the "smoke" on the bottom right and the "pop" on the bottom left. All the shades are soft and pretty and wearable for every day. The prime shade is a rose gold soft shimmer for all over and the enhance is the warm pink to use on the lid. The smoke can be used in the crease and along the lash line, although not dark enough to use as a liner. The pop shade is to be used with your finger and tapped over the top of the shades to add a bit more glam if you want.
As you can see – no baby pink in sight here! I get a barely-there nude look, which is great for every day. I will say the SA at Nordies said to me when she applied on my lids that she was shocked at how different this comes across on everyone.
What are some of your every day shades?