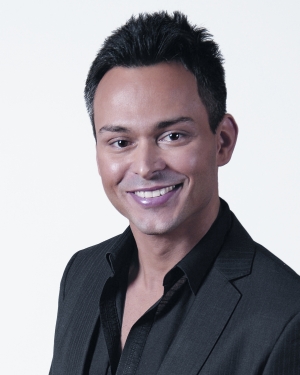 Ladies, you've asked, and Alex has answered!   Many of you have emailed me or left in comments the questions you want answered, so I went to the top – one of Lancôme's National Artist,  Alex Sanchez for your answers.   
Many women over 40 wear glasses.  Should we be doing something differently to make our eyes stand out more?    Keep the eyeliner very tight and thin along the lashline as many eyeglass wearers experience an overall magnified look with the corrective lenses.  You don't want anything to distract from your pretty eyes!
What products do you suggest we use for a 5 minute face?  Tinted moisturizer, concealer, mascara, brow pencil, blush, lip gloss  = 4 minutes. . . add two colors of well blended shadows = 5 minutes. 
Our eyes tend to get droopier lids as we mature.   How can we now apply eyeshadows to our eyes?   Keep the eyeshades simple using  two colors. . . light and dark.  Use white kohl liner on the inner bottom waterline to open the eyes.   Spend your time layering applications of mascara to get that sexy/innocent/youthful fringe of lash every woman wants.
It seems we hear so many different answers on what our concealer shade should be – same as foundation, lighter than foundation, peachier.  What should we really use?  As you mature, the under eye becomes more hollow and dark blue in tone.  Peach based concealers are very effective in correcting these blue tones!  I always suggest consulting your beauty advisor in store to help you find your perfect shade.
I realize I carry way too much makeup in my handbag.   Do you have any suggestions on what we should really keep in our handbags?   Beauty on the go – Dual Finish Pressed Powder in your perfect shade for flawless skin.  Oscillation mascara in black to pop the eyes and Laque Fever Gloss in Optical Rose for a young and sexy nude pout with 8 hour wear.
Office makeup – what's appropriate and what is not?  At work you should always be memorable for your essence . . . your message and energy. . . for what you say and do. . . you do NOT want to be upstaged or overshadowed by what you are wearing.  Don't let distracting makeup define your public persona.
Rules are meant for breaking, but do you have any steadfast rules for what women over 40 should or should not be doing when it comes to makeup applications?   Lipstick is an accessory and not a uniform.  Have fun with lipstick as you do with shoes. . . you can wear the Lancôme Natural Beauty lipstick for the PTA on Monday and then rock out your Lancôme Red Stiletto lipstick for a hot date night on Friday.
I'm a strong believer in good skin rather than more makeup.  Do you have any Lancome skincare products that no woman should be without?   I always say. . . Honor Thy Skin. . . always exercise a daily routine of cleansing, moisturizing and applying sunscreen.  If you want extra credit then exfoliate weekly with a microdermabrasion product.
Thank you so much Alex!  It's been a pleasure to work with you and thank you for all your fabulous answers!