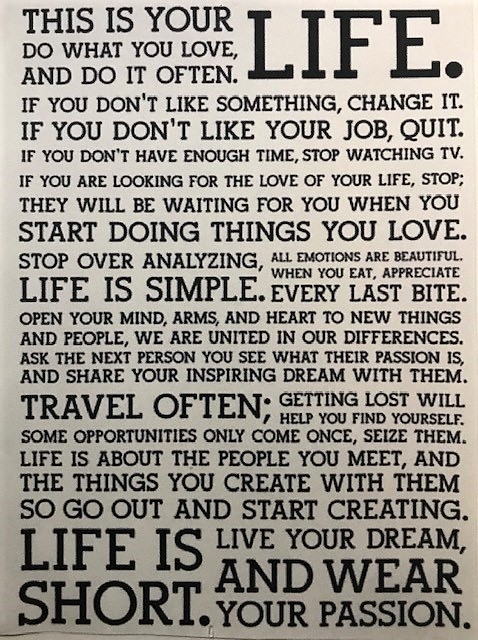 I love this saying and keep it posted on my inspiration board to look at whenever I need a little push, a little inspiration, a little re-evaluating of everything going on in my life. And of course, this is the time of year for resolutions. Or goals. Or whatever it is you want to call them. Just don't be so hard on yourself. It's totally not worth it. Enjoy what's in front of you, and if you can't, change it. You are responsible for your own joy.
In the spirit of resolutions and goals, we've put together our fun list of what we want in 2019!
Kari ~
Buy fewer white shirts
I resolve to never go on another online date
Getting rid of my dark under eye circles once and for all
Realize I have more than enough lipsticks – my most difficult resolution of 2019! 🙂
Spend less time watching TV shows that I hope will get better as they go on. (They don't)
Carrie ~
Spend less than $1,000 this year at Starbucks drive through 🙂
Watch more cat videos on You Tube
Take NO stupid Facebook quizzes
Leave treats more often for my nice UPS driver
Find an alcoholic drink to like other than Bud Light 🙂
Happy New Year!