Many of you know by following Fab Over Forty and those that know me personally are aware that I work in the interior design industry during the day. I oftentimes think that being obsessed with beauty products and the interior design industry really can go hand in hand. The colors, textures, packaging and more are really quite similar when you think about it. So when One Kings Lane asked me to join in their Light Up Your Look campaign I thought it would be fun! What is my taste of jewelry that inspires what I would have for a chandelier in my home? I never had thought of my jewelry tastes crossing over to what I would choose in my lighting, but the more I thought about it, the more I got it!
I recently moved and it's funny how people who had never been to my home before are surprised when they see what my home looks like. I'm pretty simple, but I love the details and love adding little unexpected "jewels" in my home, which includes many family treasured pieces like the trunk that my great-grandparents used when they came over to the US, or my great-aunt's candelabra with crystal baubles that brightens a table in a little corner or these vintage pieces mixed with the contemporary Platner cocktail table to balance it all out. You won't walk into my home and find a lot of color or pattern. I'm around that all day and I want to come home to something that is more restful and simple, but it may have an exquisite detail. It's the same with my jewelry. Years ago my parents owned a jewelry store so I acquired a taste for jewelry and mine again is quite simple and uncomplicated. Like my father's diamond ring I had resized to wear or my grandfather's cuff links, or the onyx ring that my grandmother gave me for my 8th grade confirmation are all simple pieces, yet treasures. I look at lighting in the same way – I don't want anything goopy or flashy, but simple and the details are what matter.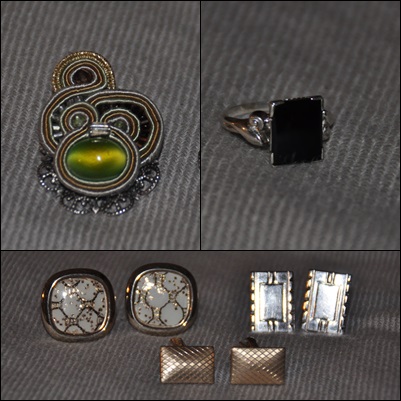 Above is some of my personal jewelry. Top left is the earrings I may wear to a formal event, but I would wear them with something simple, clean lined and probably black. No other adornments.  The onyx ring my grandmother gave me for my 8th grade confirmation that I still wear, and on the bottom are my grandfather's and father's cufflinks I wear with my menswear tailored shirts.  Below is something that I found on One Kings Lane I would buy in jewelry – a set of horn bangles with Swarovski crystals – simple, but the details are special. 
Being in the interior design industry we are always checking out One Kings Lane for ideas, inspiration and they have fabulous interviews, too. Above are chandeliers that would adorn my home. Unique shapes, textures are the top two – and they make me curious as to how the light would shine through and the patterns and reflections they would create. Beautiful! And the chandelier on the bottom I like because of its classic, simple look, but then the finish is antique brass, not a shiny finish that may cheapen the look, and I like the detail of the arms.
What's your style?