No. 4 is a hair care line that my stylist recently began carrying at his salon, Haus Salon.  Charlie started carrying the line because he's a true believer in using products that are mostly natural and still do what they claim.  And believe me, there are a lot of bad natural products out there.
When getting my hair cut a few weeks ago he washed it with Fleurs de Temps Volumizing Shampoo.  I was instantly mesmerized by the scent.  It's fresh, lightly floral, not too sweet, but oh so lovely.  I think it's the lemongrass I detect in the scent.   There's also organic oatmeal, golden seal and gooseberry and it's sulfate free.
I love the way this makes my hair feel – not dried out from a volumizing shampoo like many can make it feel.  Instead my hair is silk soft – I actually can't wait to use this in the morning!   When is the last time anyone has said that about a shampoo!    I must stop by and pick up the conditioner as well.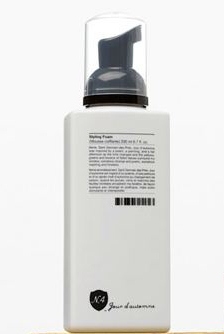 The second piece in the line that I purchased that day was the Jour d'Autumne, a volumizing styling foam.   This too gives my hair volume while leaving it soft and silky.  It's humidity resistant (where were you in the midst of my summer!) and it conditions as well.   This smells equally divine.
There are four parts to the line – Volume, Essential, Hydrate and the Style products.  There are no sulfates in any of the line and the styling line does not contain stripping alcohols.  This designer hair line is 100% vegan and gluten free, paraben free and is never tested on animals and all ingredients that are potentially toxic to humans will not be found here.
My only complaint – why does the print have to be so unbearably tiny?   Even with strong readers on it's difficult to read.
This is a complaint I've heard from many of you about beauty products in general, and products used in the shower are the worst!   You can't wear your glasses in the shower to read what you are grabbing and sometimes shampoos and conditioner bottles are undetectable as to which one is which.  OK that's my rant for the day.
But seriously, I haven't been this excited about a hair care line in a few years, and my hair is happy hair.