I recently asked my hair stylist Charlie Brackney and colorist Marlee Solomonson of Haus Salon what are the actual wearable hair trends for women over 40 this spring? I mean, we aren't necessarily going to give into that side shaved head or those colored spiked tips, are we?  I know I'm not!  I want something wearable that isn't going to make me look like I'm trying to be 20 something and Miley Cyrus' look alike, because really, we did that once already and why would we consider it again.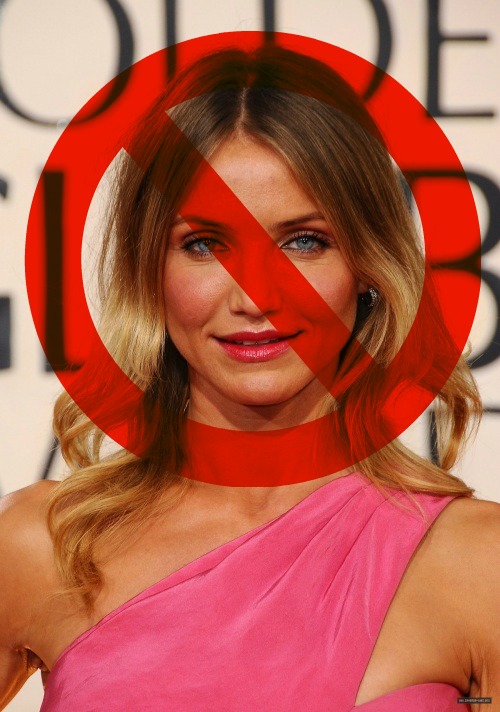 While I love Cameron Diaz, the ombre hair, not so much.
According to to Marlee, for hair color the ombre look is done, over, finito. Good, because I never, ever got into it. To me it seemed like everyone was just being lazy and letting their roots grow out, way out, and I never understood it.  She also said that overly blonde/platinum hair is out as well as that overly dark hair, for women especially over 40 these are out. The dark is is too heavy and aging because it drains the color out of your skin and the overly blonde/platinum shade does nothing for skin tone either.
So what can we do?  Natural looking and sun-kissed is the way to go this spring and summer.  Lighten it up by doing balayage to give it that sun-kissed look and it also makes the hair color variations look more natural. This gives hair a more youthful, fresh look. If you have naturally dark hair this will lighten the look and not drain the color out of your face either.
Charlie says that for hair styles a longer bob or lob is really in.  Gone are the super-long locks and this new bob skims the shoulders and neckline, not the severe bob of the past aka Victoria Beckham style from a few years ago. This is softer, more feminine and leaves you with styling options as well. It can be worn straight, or with soft curls and the part can go from side to center as well. Talk with your hair stylist about what works best for your particular face shape.
Here are some variations of the lob that we are loving.
All images from Pinterest