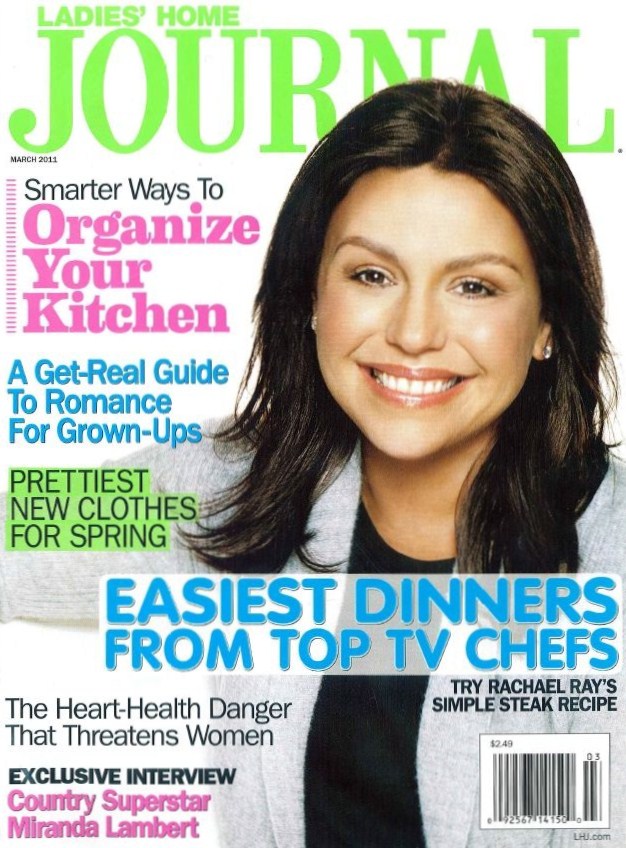 Wow!  Big news at Fab Over 40!   I may have mentioned awhile back that Ladies' Home Journal contacted me that they were putting together a list of "This Stuff Works" Beauty Awards and wanted to know what were my favorites.   They had many categories and I diligently sent them my list of what are my favorite products in their categories and why.
Well, the awards are out in the March issue on stands now!    And yep – there you will see my dorky photo mug shot with one of my quotes.   A funny thing about the photo – I was in meetings all day without access to my computer and when I got back to my office at 4:30 pm I saw an email that they needed my photo by 3:00 EST that day!   I was already 2 ½ hours late because of the time difference, so I had someone shoot a quick photo.  I should have listened to my sister ages ago when she said get a professional shot taken!   But ugh, how I hate having my photo taken.
Here is the article below and you can click on the images to make it more legible.  You can also check it out online at Ladies' Home Journal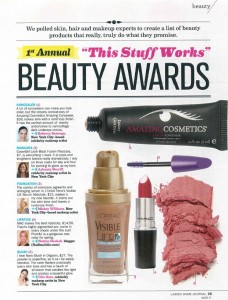 So what were my favorites on the list I sent to them back in November?   See below for my whole list.
Makeup
Lipstick – Lancome L'Absolu Rouge.   This is the perfect formula for me.  It's incredibly moisturizing and has an SPF too.   With 40 shades to choose from, there is definitely a shade for everyone.
Foundation – Jouer Cosmetics Luminizing Moisture Tint.  Loss of moisture is common in women over 40 and this adds just the right amount of moisture and perfect coverage, plus it has SPF 20.  It's oil free and fragrance free which makes it non-irritating to my sensitive skin. 
Blush – Lancome Blush Subtil in shade Miel Glace.    It's a cross between a soft blush, a very light bronzer and a highlighter.   It's my go-to shade when doing a smoky eye or strong lip, or just a natural look.  It gives you a polished look without looking over-done. 
Mascara – Dior DiorShow Extase.  I love how it lengthens, but especially thickens my lashes.  The unique shaped brush gets every lash covered in the very dark formula.   I get compliments on my lashes all the time!
Concealer – Jouer Cosmetics Age Repair Brightener.  I am obsessed with this under-eye concealer.   I'm plagued with dark circles and this covers them without being noticeable.  It moisturizes and is chock full of skin repairing goodness like vitamins A B & E.
Lip Balm – Burts Bees Beeswax Lip Balm. (in the tube not the tin).   I love the convenience of the tube, the moisture it gives my lips and it's filled with natural, good-for-you ingredients.   I keep one in the kitchen, by my bed, in my handbag so there's always one within reach. 
Nail Polish – Chanel and Essie.  Essie- No one does light pink, nude, or natural shades better than Essie.   Chanel – no one does dark, unusual, cult classic shades better than Chanel.  I always get compliments on my nail shades.
Hair
Shampoo and Conditioner – Pantene Classic Clean– A perfect go-to shampoo and conditioner (not the combo in 1) that doesn't weigh down my fine hair or strip it color from it either.  My whole family loves Pantene. 
Volumizing Product – Phyto Phytovolume Actif Spray.  This is always my first step in styling products.   I can always count on it to give volume to my fine hair.
Smoothing/Defrizzing product – Shu Uemura Art of Hair Essence Absolue.   It expensive, but lasts a very long time and the tiniest drop prevents my hair from drying out and controls the fly-aways.    When its winter and dry out I'll take quite a bit and saturate my hair overnight.  The next morning my hair always looks incredible!
Home Hair Color – TouchBack– I am a total klutz when it comes to trying to color my hair at home.  But, to extend my time between coloring appointments I use TouchBack.  The marker-style applicator is so easy even I can use it!  And it covers up the grays very well.
Skin
Anti-aging Treatment – Obagi Professional-C in the morning and a prescription strength Retin A at night time.   I have noticed a remarkable difference in my skin with both of these products.   You need to start slow on both and use lower strengths and work your way up to a stronger formula.   RoC makes some great OTC products with Retinol in them to try before going onto prescription strength.  
Night Cream – Liz Earl Skin Repair Moisturizer.   I love the weight of this moisturizer and how it soothes and calms my skin.   It's never greasy feeling and my skin always looks plumped and moisturized when I wake up. 
Day Cream – Lancome Absolue Premium BX.  The lotion version is lightweight for day, yet moisturizing enough to keep your skin beautiful and plump.  There's also SPF 15 to help prevent future damage. 
Eye Cream – Prevage Eye Ultra Protection Anti-Aging Moisturizer with SPF 15.   Not many eye creams have SPF so that's a plus.   It's lightweight and creamy so it goes on smoothly and plumps up the wrinkles and contains the powerful anit-oxidant Idebenone.
Face Cleanser – Kate Somerville Gentle Cleanser I love how this cleans my face without stripping the natural oils.   And the lavender scent is divine.
Body Lotion – Eucerin Calming Crème.  My dermatologist recommended this for my eczema and dry skin.   I love that this is not scented and this version of Eucerin is very creamy and not pasty.   I've used it nearly daily for years.
Body Wash – Lisa Hoffman Beauty Spa Shower Gel.   The Japanese Agarwood scent is amazing and it leaves my skin soft.
Sunscreen – Neutrogena Ultra Sheer Dry-Touch.  It comes in a variety of SPF strengths, but because of the Dry-Touch you never have that greasy feeling to your skin.
One thing not categorized, but I own and recommend to everyone is the Clarisonic.   It deep cleans your face without irritation, enhances the performance of any cleanser and your skin feels incredible.   It's also wonderful for people with acne.
Do Good:  Lisa Hoffman Beauty– A portion of the sales from the Spa Shower and Spa Bath collections are donated to The Rainforest Foundation to support the people living in these regions.  Plus the company offers 50% off products to Military Families and they have donated over $1M worth of products to Military Families.