It's finally here!  The Redbook magazine issue that has "2011 Most Valuable Beauty Products", which Fab Over 40 was asked to be one of their beauty experts for the testing and rating.   And now I can finally tell you all about the day and how we rated the products!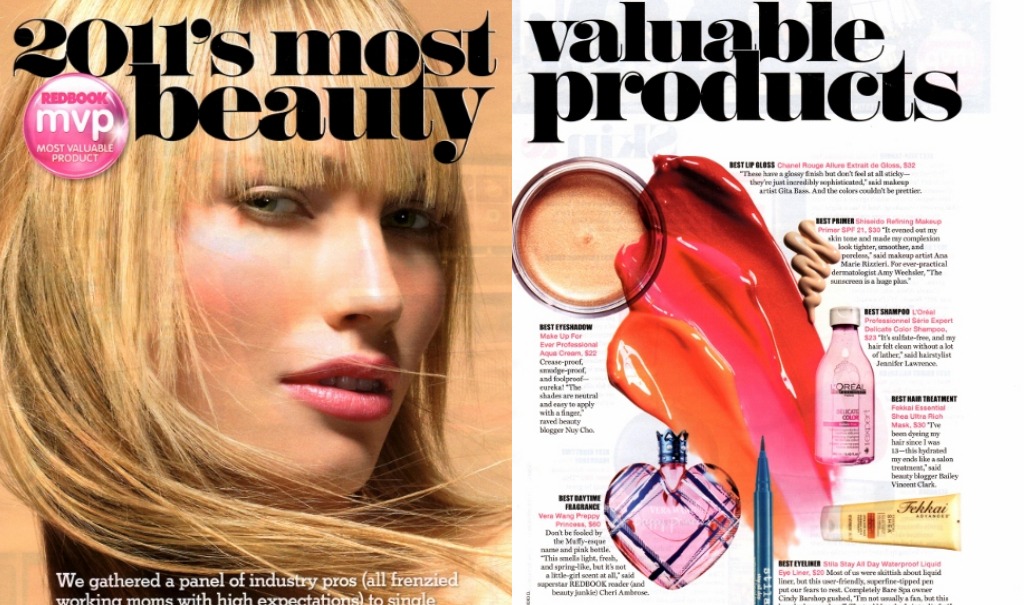 Let me just say for the record – getting there was the toughest part.  Having lost luggage so I couldn't wear my decent clothes, put on my makeup and fix my hair was frustrating at best.   Do I wish they had used the photo I sent to them to be published instead of the one from that day sans decent clothes, hair and makeup?  YES!  But, they didn't. 
 Above are a few of my quotes used in the Redbook article. 
Here's how the day played out – I arrived at the Heart Corporate offices and was sent to the top (44th) floor for the testing event.  The room has amazing floor to ceiling windows on 2 sides and overlooks Central Park on one side and the Manhattan skyline on the other.  The views are incredible!  
There were 3 large round tables filled with beauty products from several categories such as foundations, lipsticks, lip glosses, blushes, eye shadows, mascara and more.   Redbook editors had already narrowed down each category to 4 products within that line, such as 4 brands of lipsticks etc.  We then had to test each product in each category and write down our 1st favorite and why and then the 2nd favorite and why – we did this for every category in makeup, nail and fragrance.  
On another long table were all the hair, body and skincare products along with several styling tools.   We did not test those at this time, but were sent several of the products home with us to test and write our reviews as before.  I was sent facial cleansers, body washes and hair conditioners home to test.  Others got body lotions, face creams etc. so not everyone got all the body products to test.  
Redbook compiled all the sheets of paper with our responses, so we did not know when we were there which products would win.  This was done after we left and we sent in our result sheets from our home testing too.  The results weren't known by us until we read it in the magazine just like everyone else.    
It was such an honor to be asked by Redbook magazine to be one of their beauty panel experts.  There were dermatologists, celebrity makeup artist, celebrity hairstylist, product developers, cosmetic brand owners and more.   It was such a fun event and to be able to hear some of the chatter going on between testers and what they thought of certain products was very interesting!
Below are some of my photos taken during the day while testing and from the magazine issue.  Click them on to get a larger view.