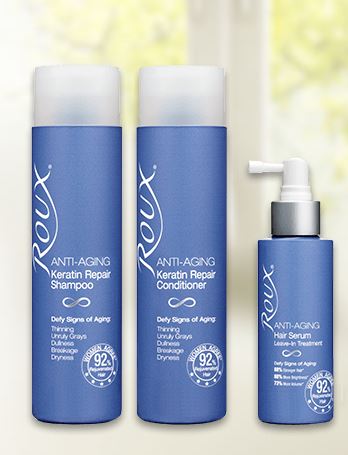 Does your hair age? Of course it does! Even though hair is technically "dead" it really isn't. So many of life factors can affect what happens to our hair. Traumatic events can cause hair loss, too much sun and your hair can quickly become damaged with dryness and color loss and then there's the dreaded hormonal effect of dry, brittle, thinning hair and more.  Not so much fun. It leads so many women to cut off their hair because they just don't know what to do with it and they feel that's the only option. While I absolutely love short hair, it's not your only option and cutting it won't solve many of the problems.
Roux has this fabulous line of hair care, Anti-Aging Keratin Repair that comes in a shampoo, conditioner and hair serum. This line of hair care addresses so many of the aging hair issues of dullness, breakage, dryness, thinning and unruly gray hairs. One of the best things is that this line has gotten rave reviews from users and it's affordable, and you can use it on color treated, permed and relaxed hair, too! The best of all worlds.
Here are some of the results that were found on consumer testers using all 3 products
 92% Rejuvenated Hair
88% Stronger Hair
96% More Moisture
88% More Brightness
73% More Volume
Those are some results that are definitely worth trying out! Another benefit is that the line offers anti-oxidant protection and it's formulated without any sulfates, parabens and sodium chloride. The serum is a leave-in product and that improves the appearance of hair growth and fortifies and strengthens hair. It's also enriched with vitamins A, E, biotin, panthenol, keratin and UV filters.
Right now until the end of October Sally Beauty and sallybeauty.com is offering a Buy-One-Get-One-FREE on all Roux Anti-Aging Hair products making the affordable products even more affordable!
This contest is now closed.  Winners that were randomly selected are:  Shelly, Mary Ann, M. Clark, Andrea and Kim.   Thanks to all who entered!
Roux PR is offering Roux Anti-Aging Keratin Repair Shampoo, Conditioner and Hair Serum to 5 lucky readers of Fab Over Forty!
Here's how you can enter for a chance to be one of the 5 winners:
Be sure to read the disclosure policy of Fab Over Forty
Tell me in the comments if you've tried Roux before
Be sure to follow Fab Over Forty on Pinterest, Facebook and/or Twitter
Contest ends on November 2, 2014 11:59 p.m. CST.
Good Luck!
This is a sponsored post and product is offered by Roux PR.