I'm not a big TV watcher, but there are a handful of shows I will watch. One show this season that I only seemed to catch a glimpse of here and there and it really piqued my interest was Madam Secretary. I like Tea Leoni as an actress and the shows I watch are usually of strong, smart women characters. Over the holiday week I had a little more free time than usual so I spent several nights pulling up On Demand to watch Madam Secretary from the beginning.  I'm hooked.
What I also liked was the way they have Tea's character dressing. It's smart, it's business-like, it's modern and it's all wearable. Let's face it, Tea has an amazingly fit, trim body so she could probably wear a bag over her body and still rock it. But lately I've been out of sorts on what to wear. I look at so many fashion blogs for inspiration and the outfits either are way too contrived, not easily attainable, too dowdy – we're women over 40 not 70 yet and plain old just not my taste. I like tailored clothes that aren't boring, but oftentimes there's a fine line.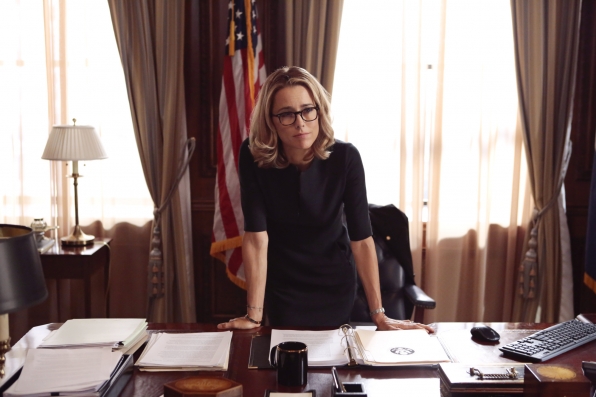 This past summer when in Chicago with some friends they tried, they begged, they implored that I try some pattern.  Ugh. It may look good on them – not me. Oh I might go for a small, nearly undetectable pattern here or there, but overall my clothing is simple. I like little details better than flash. A simple cashmere sweater, a mens style shirt for example. I've also recently realized I'm moving more towards simple jewelry. No big baubles for me anymore. A simple stud or slight dangle earring, a more simple necklace instead of a statement piece.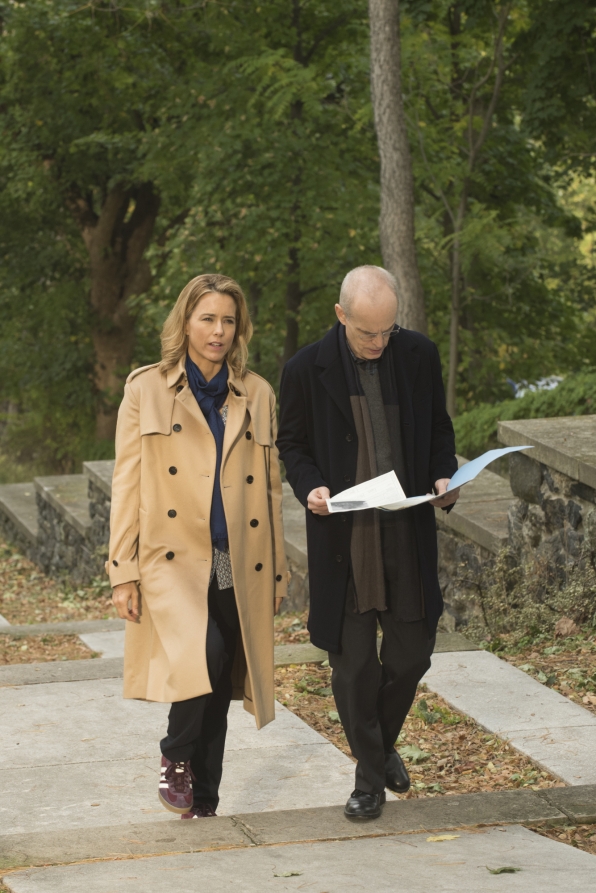 Oftentimes I work from home so on weekends when I am working from home I put on the sweats. But weekdays I might be home, might run into a client's office which is anywhere from a home office to a small freestanding office to an office in a larger, more fashionable location. I need variety in my clothes and don't always want to be in my jeans – which can work in any of the settings, but I want to take it up a notch.  Above I like her casual, yet somewhat business look. She's in an untucked blouse, her staple Burberry trench, slouchy pants that may even be a more dressy sweat pant and her Adidas tennis shoes.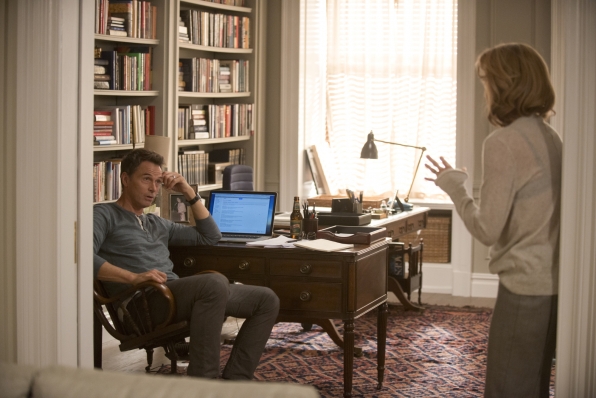 I loved this scene where she gets home from work and can't wait to get into something comfy. She walks in the door, takes off her blouse and pulls over this soft cashmere sweater. How many times have we all done that? I will add the extra step of taking off my makeup the minute I walk in the door.
So my goal for sprucing up my wardrobe this year is to get a few good fitting blouses. Same with a good blazer. I've had a very difficult time finding one that fits the way I like – a bit longer in length. I'm long waisted and so many are shorter ones and they just make me look like a box. I have one or two skirts and may add another – even go so far as to say I might get a dress! I also need to find some good fitting dress slacks.  Another words – fit is key. And yes, my friends, you'll have to live with the fact that I'm not going to get pattern or wild colors. I like simple and uncomplicated, stylish yet sophisticated my friends.
All images from CBS