CVS/pharmacy BeautyClub sent me on assignment to find the best BB Cream available at drugstore prices. And you can have a chance to win a $50 CVS/pharmacy gift card for your own BeautyClub purchases!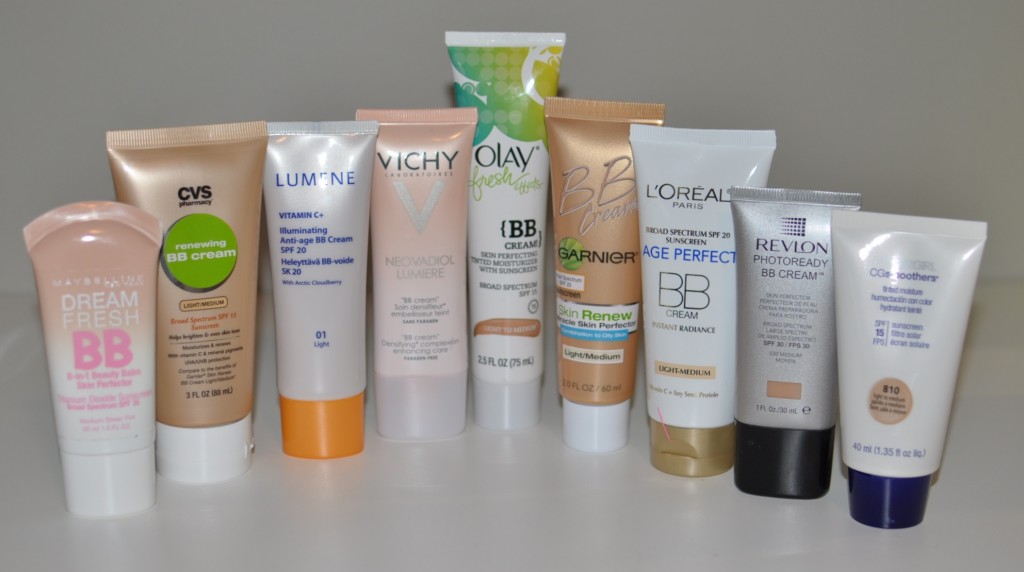 Since BB Creams hit the US market a while back, they've become all the rage. They offer sun protection, are a foundation and offer skin care goodness all in one little package. They also make it easier to get ready in the morning by having all this combined in one – no separate skincare, then sunscreen and lastly foundation. So if you haven't tried a BB Cream before, now is the time to consider one, especially with spring here and summer close behind, we're spending more and more time outside and sun protection is a must.
My mission was to go to CVS and try out all their BB Creams that they have to offer and give my thoughts.  I'll give you my thoughts and what I discovered about each of these, but it really comes down to three things.  1.What you want to spend and 2.What are the ingredients and are they what your skin needs and 3. What type of BB Cream works best with your skin type.  I have combination normal/oily skin with my T zone very oily in the warmer months, so keep that in consideration when I give you my opinion.  Another thing to remember is the term "broad spectrum" when talking about sunscreens.  Broad spectrum offers protection in both UVA and UVB rays.  A good way to decipher the two is UVA- aging rays, UVB – burn rays. The prices I'm giving are at my local MN CVS – prices may vary depending on your location.
Maybelline Dream Fresh BB 8-in-1 Beauty Balm Skin Perfector – It sells for $8.99 and it has a titanium dioxide sunscreen with a broad spectrum SPF30. It comes in 5 shades – light, light/medium, medium, medium/dark, deep. The 8 benefits in this one tube are:  Blurs imperfections, Enhances, Brightens, Adjusts to skin tone, Smoothes, Hydrates, SPF30, 0% oils and other heavy ingredients.
My thoughts:  I was surprised at how thin/watery the texture was. However, it's almost a matte texture once it's on and offers a solid medium coverage – good for hiding any redness or other imperfections the skin may have.  For someone oily like me, I like this one! I also really like that it's SPF30 – a nice amount of protection.
CVS Renewing BB Cream – sells for $9.99 – has a broad spectrum SPF 15 – they compare this brand to Garnier Skin Renew BB Cream.  It is said ot brighten and even the skin tone and it has vitamin C and mineral pigments. I noticed 3 shades – fair/light, light/medium, medium/deep.
My thoughts: This has a slight fragrance to it that could be annoying to some, but it is barely noticeable. I noticed a slight amount of light enhancing reflectiveness, but not enough to say my face looked shiny. The texture is creamy and the coverage is a light to medium coverage. I was surprised how much I liked this one.
Lumene Vitamin C+ Illuminating Anti-age BB Cream – This sells for $14.99, although this week it is on sale for $10.  It's available in two shades; light and medium.  It has SPF20, but it only claims UV rays and does not say it's a broad spectrum SPF.  The Arctic Cloudberry is where the Vitamin C+ is from and is an anti-oxidant, which is good for the skin.
My thoughts: It has a very light, pleasant fragrance, I like that it has anti-oxidants and is paraben free. But don't like that it is not broad spectrum sun protection. I wish it came in more shades, however the 01 Light works for my skin tone. This has slight skin illuminating properties and lightweight coverage. This is quite moisturizing and would be great for normal to dry skin. On my oily skin after an hour I was quite shiny.
Vichy Neovadiol Lumiere BB Cream – Sells for  $42 and is the most expensive of the drugstore brands I tested.  It has no SPF and only comes in one shade. It is paraben free and has 6 benefits in one: Densifies, resculpts, smoothes, nourishes, evens and illuminates the face.
My thoughts: This one is super moisturizing. When a product claims to be a BB Cream, personally I expect it to have some type of SPF protection and this one disappoints me in that aspect. It should really be called an illuminating foundation and it's lighter coverage. It's highly illuminating and moisturizing and after a short while I noticed my already oily skin looked way too oily. This would be great for dry skin.
Olay Fresh Effects BB Cream – Skin Perfecting Tinted Moisturizer with Sunscreen – This sells for $13.99 and comes in Fair/light and Light/medium shades. It has a broad spectrum SPF 15.  This does not claim to have any additional skin benefit properties other than the broad spectrum protection.
My thoughts:  This felt more like a moisturizer/sunscreen than anything else. It was the sheerest of tint than any of the BB Creams I tried. If you had "flawless" skin (meaning no redness or imperfections) this would work great for getting OK (SPF15) protection, not the best protection and not the worst. But, I would not be looking for this as to make the skin look better like foundations can, it's simply too sheer for that. It worked nicely on my oily skin though, as I didn't feel too shiny.
Garnier Skin Renew BB Cream – This sells for $12.99 and has a broad spectrum SPF 20. I like that it comes in a formula for regular and oil control skin types. The shades are Fair/light, Light/medium, Medium/deep. This has vitamin C and mineral pigments to give the skin a flawless look.
My thoughts: I was surprised at how matte this was – not a drying matte, but a good matte. There is a good amount of coverage so if you have skin imperfections it does a nice job of covering them without being heavy or drying. My skin was not shiny and for oily skin I really like this, it's one of my favorites!
L'Oreal Age Perfect BB Cream Instant Radiance – This sells for $17.29 and is on sale now for $11.99 – It has a broad spectrum SPF 20. It has Vitamin C and calcium microspheres to treat sagging skin. I could find that it only came in one shade – Light/medium.
My thoughts: I was surprised when it comes out of the tube it is white with small tinted flecks, which transforms on the skin to an overall tint. I like the good sun protection it offers and I'd say it is light to medium coverage. It gives the skin a glow – a lot of glow for oily skin, but it's not like it's oily on the skin, just very shiny.
Revlon Photoready BB Cream – This one sells for $10.99 and has a broad spectrum SPF30. There are 3 shades – 010-Light, 020-Light/medium and 030 Medium. This does not claim to have other skin care benefits other than the sun protection and the Photoready line is said to give the skin a flawless look.
My thoughts: For oily skin – this one was my instant favorite! It offers a solid medium coverage, even thought the texture is light. I like that it has broad spectrum SPF30 – a good amount of protection and it doesn't give the skin that white "sunscreen glow". This kept the shine at bay for many hours and made my skin look flawless. This one is better than many department store BB Creams I've tried.
CoverGirl CGSmoothers – This one sells for $7.99 and has SPF 15 – not broad spectrum. It is oil free, 100 % PABA and fragrance free. They have changed the package, however in my color of light/medium this old packaging was the only thing available. It comes in 3 shades – 805 Fair/light, 810 Light/medium and 815 Medium/dark. This also has vitamin C.
My thoughts:  The coverage is quite sheer and it's formulated for normal to dry skin, which isn't best for my oily type. It does give a healthy glow without looking too shiny and I like that. Overall it's a good option and one of the least expensive I tried.
There are a few other BB Cream options but the CVS near my home either didn't have them or they were sold out. They include: Nuance, Aveeno and Rimmel.
Contest now closed!
For a chance to win a CVS/pharmacy card worth $50 here are the rules:
US residents over 18 only

Read my Disclosure Policy
Enter your name in comments and tell me which BB Cream you think would suit you
Contest ends April 12, 2013 at 5:00 p.m. CST.
1 winner will be randomly chosen
Good luck!
I was supplied with some products and a gift card to purchase above BB Creams for testing. All opinions and results are my own and yours may vary.