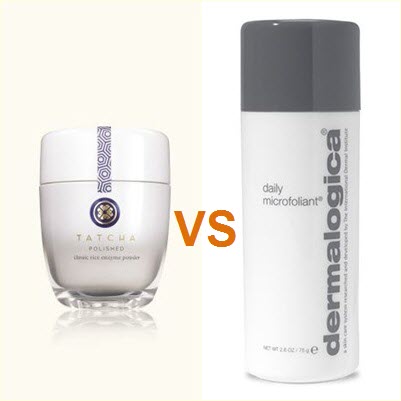 Tatcha is a Japanese skincare line with a fantastic product called "Polished Classic Rice Enzyme Powder" which is a water-activated rice powder that polishes skin without abrasive substances. It is available in a 2.5 ounce jar and retails for $ 65.00. I tried it and found it to be excellent for cleansing my skin and removing dead skin cells without stripping natural oils.
That being said; this frugal Fab Over Forty is always searching for products that deliver equally fabulous results at a lower price point. Enter: Dermalogica Daily Microfoliant. This product is also rice enzyme based and water-activated and polishes the skin and addresses uneven pigmentation.
Dermalogica Daily Microfoliant is available for $ 52.00 for a 2.6 ounce size. I compared both products and found that they both delivered stellar results. Both products can be used in the shower from head to toe and work effectively on hands, elbows and knees and any other areas of concern. They prepare your skin for moisturizer and/or self-tanner by sloughing off dead skin cells; leaving the skin polished, soothed, vibrant and alive!
Both the Tatcha Classic Rice Enzyme Powder and the Dermalogica Microfoliant suggest adding lukewarm water to activate before applying in circular motions and throughly rinsing. They are both gentle enough to be used daily and are finely milled and therefore do not "scratch" your skin like some other exfoliants. Skin is left feeling totally smooth and refreshed.
The verdict: Almost identical results but "more bang for your buck" with the Dermalogica Daily Microfoliant – therefore it gets my vote. My philosophy is to save where you can so that you can splurge somewhere else.
Tatcha products are available at: www.Tatcha.com and www.Barneys.com.
Dermalogica products are available at Ulta and other beauty stores and online at www.Dermalogica.com.