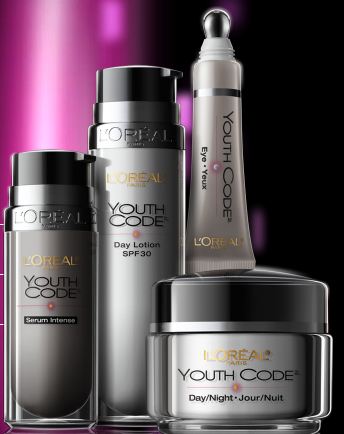 L'Oreal added the Youth Code products to their skincare lineup a few months back.   I was sent the Youth Code Serum, and honestly couldn't tell you who sent it to me – nothing was included in the package, so I'm not sure if it was PR or the company directly.   Either way, I should have talked about this new line some time ago. 
A little history on this first – L'Oreal has 10 years of gene research in creating this product.  What they learned from their research is that young and older skin react differently to a number of aggressors such as UV rays, pollution and other free radicals.  I think we can all agree on that, and have heard this before.   But, what they did with this knowledge is create what they call Gen Activ Technology, which is a proprietary combination of ingredients that increases regenerating efficacy of your daily skincare.    It basically encourages your skin to act younger. 
As I've said many times before – I do not have a degree in chemistry or other sciences.  I only know if something works by testing it on my skin.   I also know everyone skin is at different stages of aging depending on a persons age and other environmental and health factors.  But, I also love that fact that there are more quality options for women and men with drugstore brands.  I feel that this Youth Code Serum is a wonderful option in skincare at a great price – nothing is over $30 in this line.
I was very pleasantly surprised by the Youth Code Serum. The first thing I noticed is how clear it made my skin.  I test many products and some can really irritate my skin.  All my redness and irritation was gone in a couple of days.   Over time my few "age spots" seemed lighter too.   As I said – this made my skin clearer.   This has a slight clean fragrance to it that wasn't irritating to me and disappeared quite quickly.  The serum soaks in quickly and is not greasy or tacky in any way.  The bottle is a pump that you need to turn the top to get it to pump – which is an automatic protector against spills, which makes it great for travel.
Youth Code is available in stores now and I am encouraged by the results of this serum.   I have not tried the other pieces to this line – the daytime moisturizer with SPF, the night cream or the eye cream, but if they are anything like the serum I'm guessing they are great as well.