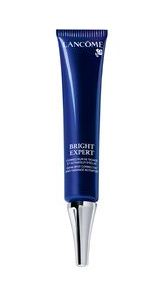 Remember the days of our youth when we didn't wear sunscreen?  We didn't know then what we know now about the damage the sun can do to our skin.  Now that we're older and better informed we've started to wear sunscreen, but in most cases the damage is already done and now we want to un-do it effectively and efficiently.
Lancome recently released Bright Expert, their answer to reducing those dark spots and evening out the skin.   Their website says that Bright Expert works faster than the leading prescription ingredient for reducing dark spots.  Since the leading prescription ingredient is not mentioned, I'm going to guess it may be hydroquinone, since that was once suggested to me by my dermatologist to reduce a dark spot that was annoying me.   But, even hydroquinone is banned in Europe because of some of the dangers associated with it, so I passed and tried another method instead, microdermabrasion.   That helped to lessen the spot, but never banished it completely.
I was sent Bright Expert to try and to be honest, didn't give it a try right away because I was reluctant in thinking it would work.   I was encouraged to give it a try after a co-worker of mine changed my mind.   One day I noticed her skin looked different – quite amazing actually; soft, pretty, glowing and flawless.   I asked her if she was using a new foundation and she said no – what she was doing differently was in her skincare.   She had gone to the Lancome counter and they suggested she give Genefique and Bright Expert a try.  Her skin became so flawless that she wasn't even wearing foundation any longer!   So of course I had to try Bright Expert myself after that.   In less than the 4 weeks they state on their site that you can see a difference, I noticed my spot was gone.   Gone!   Now, I had lightened my spot previously with microdermabrasion, but as I said, it never went completely away – until now that is.
Lancome has generously offered to give not one, not two, but FIVE of the Bright Expert away to readers of Fab Over 40!    I know you fabulous readers will love this giveaway because many of you have commented to me that dark spots are one of your biggest skin issues.
Here is what you do for your chance to win (winners will be randomly chosen)
Enter you name in the comments
In the comments tell me what other skin issue you have (assuming you have dark spot issues)
Contest open to US residents
Contest ends on Friday, July 29, 11:59 pm CST
Good luck!
Results were mine, your results may vary