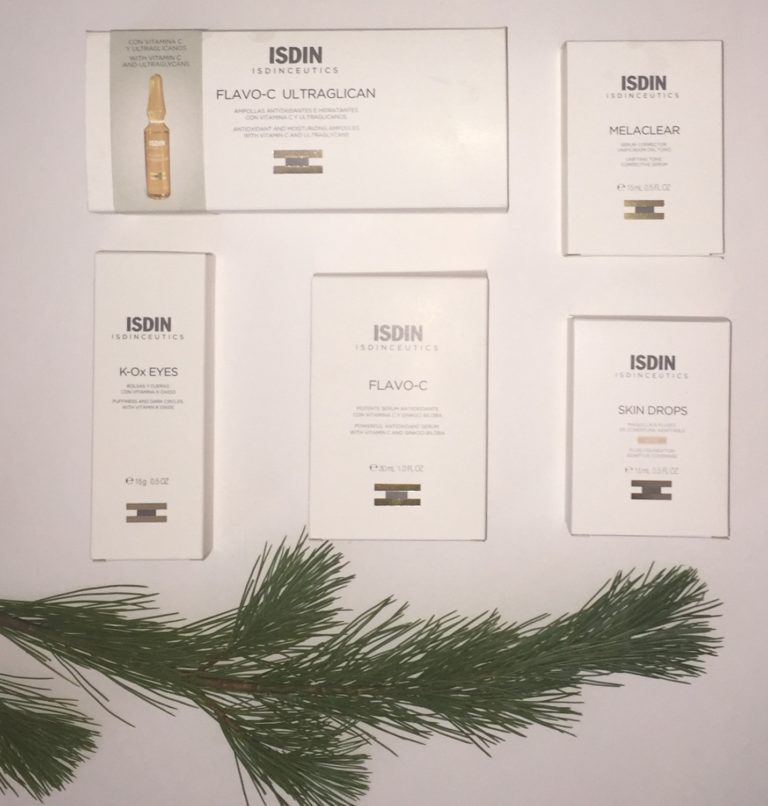 Back in December I started using a skincare line that is new to the US. Originating in Spain, ISDINCEUTICS is a skincare line that is designed "science for beauty". I take my skincare routine quite seriously and I feel like it has served me well over the years. My skincare goals are to keep it as youthful as possible without all the "extras" – meaning fillers etc. That doesn't mean I will forever say no to that route, but for now, the answer is no. And with ISDINCEUTICS, it's helping me to attain these goals.
For the last 8 weeks or so I've been using this line. I almost hate to say "testing" it, because I like this so much that it's difficult to imagine not using it. There are several good "basics" in the line, that are anything but basic. Nothing frivolous is really what I mean. There's a serum, FLAVO-C, that is an antioxidant serum with L-abscorbic acid vitamin C and ginkgo biloba to help with photoaging and elasticity. I use this every morning all over my face and neck using about 4-5 drops. Then there's the K-Ox Eyes eye cream that I use both morning and night. When I started using this eye cream, I had quite puffy eyes. Typically my under eyes I am concerned more about dark circles than puffiness, but my one eye was particularly puffy. In less than a week that puffiness was completely gone. I feel like this has really helped keep the wrinkles at bay, too.
The FLAVO-C Ultraglican in the ampules is really my favorite of all the products. In the package you get 3 of these sets of 10 ampules, a device to break off the top and then a tip to apply to make it work like a dropper. One ampule covers two applications. I use this mornings and then some evenings, but not every evening. It's like a serum and oil in one and half the ampule will cover the whole face, neck and neckline easily. It's an anti-oxidant and moisturizer that works on firmness and fine lines. It absorbs very quickly and feels really good going on, leaving my skin feel silky.
For the most effective potency, it's best to use the product up within 24 hours. I'm always surprised at the compliments I get on my skin. Just this last week I had someone guess my age as 45 (I'm 54), another person told me my skin just glows all the time, and a third person asked me if I do Botox or other things to keep my skin looking so good. I do not. I admit I did Botox once 3 years ago, but that was it! Those are compliments I will take any time and it tells me that taking my skincare seriously is paying off!
There are several other products in the line, like Melaclear with is a unifying tone corrective serum. Skindrops, which is an oil-type foundation that covers a lot of imperfections and markings with out being heavy. It comes in 2 colors that adjust to your skin tone. I think this skincare line, that's been available in Spain for years, is a great line that we're going to be hearing about a lot more.