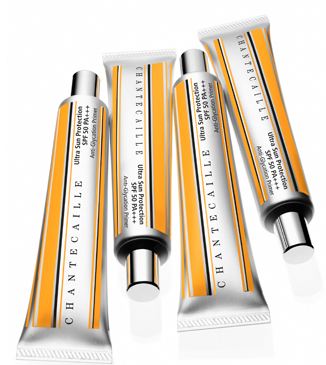 Is it a sunscreen?  Is it a moisturizer?  Is it a primer?  This could truly be all three.
Chantecaille Ultra Sun Protection SPF 50 PA+++ is one of those products that might make you hesitate to purchase because of the very steep price ($85 for a tube – gasp!) but then when you feel it and know what it does and doesn't contain for ingredients, you may give it a second thought.
First off it is a sunscreen – SPF 50 PA+++ (the PA+++ is the rating for the highest UVA protection).  You know how sunscreens can be all thick and goopy and leave a white film on your face – a reason many people choose not to wear sunscreen.   Well, this doesn't do that.   Because it's in a tube I thought it would be thick like a cream, only it's thin texture is lightweight and silky.   So I love knowing I get coverage on my face without having a thick heavy, greasy layer on my face.
Secondly, is it a moisturizer?   Well, it's not fully intended to be one, but for people with summertime super-oily skin like mine, it works well.
Third up – is it a primer?  Most definitely yes!   It gives your skin that soft, silky-matte feel without that heavy silicone feel.  Makeup glides over it beautifully.
And lastly, it's paraben free, contains carnosine, which is an anti-glycation ingredient that helps to protect the skin from the internal threat of sugar glycation (a process that breaks down collagen).  There are also three effective stabalized and non-penetrating ingredients in avobenzone, octisalate, octinoxate.  And even more anti-inflammatory goodness with cherry blossom, lemon balm and white tea extracts.
This is more than just a sunscreen – it's a powerhouse!   And of course I will put my preacher hat on – use sunscreen daily!   Even now that we are heading to the beginning of fall, it's imperative that sunscreen be worn daily.   If you try this, you might enjoy putting your sunscreen on!