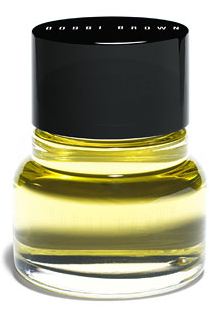 A few weeks back I was testing some new skincare.  It did not agree with me.  At all.  The first day I wasn't sure if my skin was just acting up because the change of season, but by the second day I woke up to major red patches that were dry and cracking.  I stopped using the new skincare immediately.  But, I needed to find something that would soothe my sensitive skin, still give me moisture and be cognizant to the major sensitivity issues I had going on.  I was digging through my stash of skincare getting frustrated because I felt that everything I had wasn't going to be gentle enough.
Then I came across my Bobbi Brown EXTRA Face Oil.  How could I have forgotten that I bought it last winter and it was a skin saver.  This oil is the most incredible thing for my face when it's super dry and when my sensitive skin has flare-ups like I was experiencing.  Some may question using an oil as a moisturizer on your face, but I can't tell you how much this oil works for calming irritations and giving it the boost of moisture it needs when my skin is cracking from dryness or irritation.  And it smells divine too.  It's made with sesame, sweet almond, olive and jojoba oils as well as vitamin E.  The scent is from essential oils of neroli, patchouli, lavender and sandalwood.    And the bottle lasts a very long time.
But did my love for the Bobbi Brown EXTRA line end there?  Oh no.  I was telling the Bobbi Brown SA at Macy's about my remarkable skin turn-around because of the EXTRA Face Oil that I had forgotten I owned and she asked me if I had ever tried the EXTRA Repair Serum.  No, I didn't realize it existed and what is it? She gave me a sample to last a few days and said to me "you'll be back – as soon as I give this to women to try, they hesitate because of the steep price but always come back and buy it".  After using it one day I wondered if my skin felt wonderful because of the Repair Serum or just that it was healing.  Well, after a few more days of trying this I too agreed that I had to go back and buy it.  It keeps my skin moisturized throughout the day and helps it to look soft and supple.  I'm not using the Face Oil every day now that my skin has settled down as I don't need that much moisturizing daily, but I use this Repair Serum twice a day under my moisturizer and it's not too much for my skin.   Not only does this comfort the skin, the ingredients help to firm and moisturizer with vitamin C and a powerful peptide.  The meadowfoam seed oil hydrates and the wheat, bran and olive extracts help the skin to retain moisture.  Clary sage extract helps to make your complexion more clear.
In just a few short days my skin was back to being its normal self but better.  Now that my skin doesn't have the normal very dry winter look and feel and when I need an extra boost I'll be sure to add the Face Oil to bring my moisture level back to normal.   I don't think I'll be forgetting any time soon that I have these important pieces in my skincare arsenal again.