Benir Beauty was founded by Shelley Collins, who possesses over 25 years as a skin care treatment provider. I "bee"-lieve in Benir BV-9 Platinum Anti-Aging Bee Venom Cream because my results were superb! Benir is a French word that means "to bless" and Shelley claims that this new face cream might be a "blessing for the skin".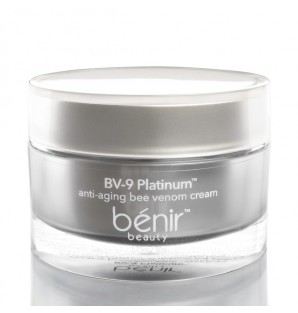 BV-9 contains injectable grade bee venom and hyaluronic acid, which is all the rage right now due to its documented benefits to the skin. The 2 ingredients work in tandem to repair the skin and reduce the effects of aging.
The theory behind the bee venom ingredient is that the cream, when applied to the skin, directs blood flow towards the treated areas to stimulate collagen and elastin. Bee venom also has the effect of relaxing the muscles, thus creating the ultimate moisturizing visual result.
One of the perks of BV-9 Platinum is that it alleviates the need for a day cream, eye cream, neck cream, and night cream, because it has all of the necessary components rolled into one. It can used day and night, all year round, and around the delicate eye area as well. It is also paraben free.
I had a great personal experience with BV-9 Platinum and was relieved to benefit from a multi-purpose cream which simplified my skincare regimen.
It should be noted that no bees are ever harmed whenever the venom is being harvested for use in Benir Beauty products. Also of note, BV-9 Platinum should not be used if you are allergic to bee stings or products containing bee venom.
Product was sent to Fab Over Forty for purposes of review. Opinions expressed are my own and yours may vary.