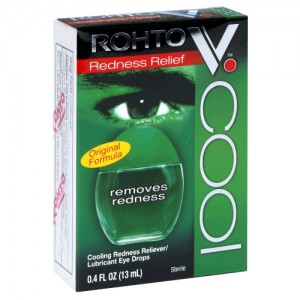 Rohto Eye Drops, where have you been my whole life?   I  recently had a couple boxes of these on the counter and my son Sam – who has miserably red eyes like I do said "OHHH!  I like these – I used these in college all the time".   And you didn't tell your red-eyed mother about these?  
Yes, above is an example of my miserable red eyes – from computer work and allergies.    You can have a great makeup artist work his magical wonders on your eye makeup (thanks Alex Sanchez), but if your eyeballs are red they don't look half as beautiful as they really are.  
No need to suffer any more.  Rohto makes these "cool" eye drops – meaning they work and they're cooling to your eyes.  They call it "eyedrenaline".   I like that name!  
I also like the cool packaging.   A small, clear, flat shaped bottle lets you see how much product is left, and it makes it easier to put the drops in your eyes than a fat round bottle.   Find these at your local drugstore in formulas of Arctic, Cool and Ice for $6.99