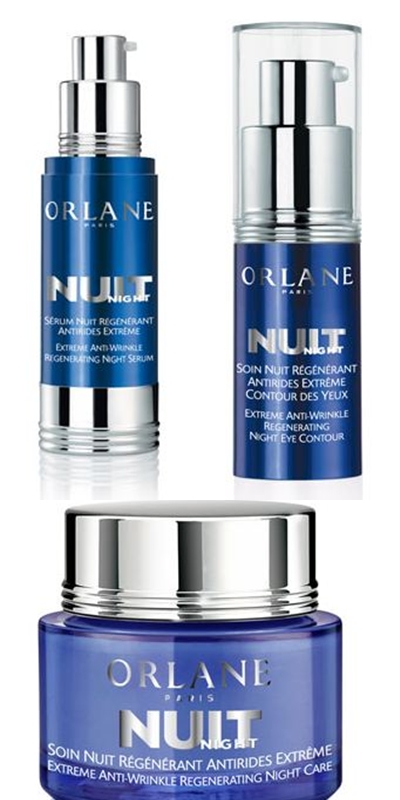 Over 25+ years ago I worked at a department store.  Not selling makeup and skincare like I wanted to, but instead furniture.   I remember one of my co-workers had become friends of the Orlane beauty sales associate and we would have lunch together quite often.   It was that sa's amazing skin that had me hooked on the line all those years ago.   Time went on and the department store changed owners and the line sadly went away from my area.  There wasn't online shopping back then like there is now, so needless to say it left my life for many years.
But, my friendship with someone in the beauty business got me back with the line of incredible skincare through their PR.  The PR person said to me she had the perfect skincare products she wanted me to try – geared at women over 40.   I'm all ears when it comes to hearing about skincare directed specifically towards us.    The line is Orlane Extreme Anti-Wrinkle Regenerating Night Care and she had me try the eye contour, serum and moisturizer. I want to let you know up front this is an expensive line of skincare.  Probably some of the most expensive I've ever tried.  The serum and moisturizer are $325 each and the eye contour is $150, which is probably near the top price I've paid for an eye cream.
The line is used at night – the best time for repairing the skin.  It's true that when we are lying down fluids and toxins tend to collect in the face – that's why we've heard for years to use 2 pillows to elevate your head – then fluids etc won't "pool".  Well, honestly has that ever worked?  Maybe when you are in your 20's and your skin bounces back more quickly.   Not when you're over 40!   This line is meant to alleviate the puffiness with Escin (used to improve circulation) and caffeine along with many other skin-working ingredients, making your skin feel smooth and wrinkles less prominent without the puffiness.
The texture of the face serum is of medium consistency and velvety smooth.  I apply it and leave it soak into my face while I do other bedtime prep before adding the moisturizer.   It almost feels cooling when first applied and it's very moisturizing.   The moisturizer is very lightly scented and of a thicker cream consistency and again feels cooling at first when I use it on my face and neck (DONT FORGET THE NECK).  My skin drinks in both of these and are the perfect texture and weight for my skin in the winter.  I have a feeling using both of these may be too much for my skin in the summer.   But, it leaves my skin soft and in the morning it's still hydrated and my wrinkles on my neck and a few on my forehead are definitely softer looking in the morning.   If I forget to apply this on my neck at night, I can definitely tell the difference.  
The Eye Contour is also a nice consistency, but I think in the beginning I had a tendency to use too much as it irritated the sensitive skin at the outer corners of my eye.  So I quit using it for a few days and then went back to using less.   Have I seen dramatic results there?   I'd say some results, but not dramatic.   I do notice that when I lightly use some on the upper orbital bone area of my eye, it does definitely help with the puffiness I can get at times in that area.
Would I use this line again?   Definitely.   Especially the serum and moisturizer, and right now I'm on the fence with the eye contour.  I'm happy to have Orlane back in my life again after all these years.   I wonder if that Orlane sa I knew so many years ago still looks fabulous – I'm guessing she does!