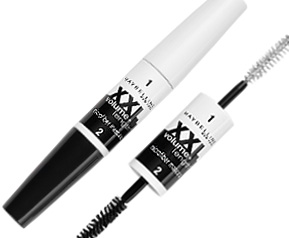 Maybelline has been notorious for their mascaras – you know – the wildly popular pink tube of Great Lash.   I never understood all the hype over that one.  To me it was just a clumpy mess.
Lately my girlfriends have been singing the praises of those special tubes of the white boosters to mascaras.   They go on like mascara, but instead of black it's white and after you apply it, you then apply your favorite mascara on top and it makes your lashes thicker and longer – über lashes.    I kept thinking to myself – really?   Is something like this truly remarkable or just an extra step in my daily routine?
So after a year of hearing how wonderful the Lancôme Cils Booster XL is, I caved.    And yes, it truly does make a difference in how well your mascara appears on your lashes.   It can take an ordinary, nothing mascara and turn it into a great one.
I figured I would give Maybelline's XXL Volume & Length Mascara a try – could it be any different than the department store brand, other than the price?   Um, yes.  So first you apply side 1, the white side.  This did not go on with any thickness or fullness.  After applying and applying, I finally figured that must be as well as it goes on, leaving my lashes still scrawny.
On to step 2, applying the mascara.  The mascara end went on with more ease.  Did it give me length?  Yes.  Did it give me volume? No.   If you've ever read about my search for the perfect mascara, you know I don't necessarily want length (it just causes smudges and smears on my eyelids as my lashes are already long) I need volume!
So if long, spikey lashes are what you're looking for – then you might consider this.  But I think you can get length from other mascaras without having to do the extra step this one suggests.  If you want to boost an ordinary mascara into something extraordinary, I'd go for the Lancôme Cils Booster XL.